Release Video
Release Date
July 13, 2023
North America, Central America, South America (Virginia, USA datacenter): Clients will be upgraded according to their timezone:

Eastern, Amazon, and Newfoundland-Labrador Timezones: July 13, 2023, at 12:30 AM - 6:30 AM EDT

Central Timezone: July 13, 2023, at 12:30 AM - 6:30 AM CDT

Mountain and Pacific Timezones: July 13, 2023, at 12:30 AM - 6:30 AM PDT

South America (Sao Paulo, Brazil datacenter): July 13, 2023, at 12:30 AM - 6:30 AM BRT

EMEA (Frankfurt data center): July 13, 2023, at 12:30 AM - 6:30 AM CEST

APAC excluding Australia and New Zealand (Singapore datacenter): July 13, 2023, 2022, at 12:30 AM - 6:30 AM SGT

Australia and New Zealand (Sydney, AU datacenter): July 13, 2023, at 12:30 AM - 6:30 AM AEDT
Non-Production Sites Upgrade Schedule
We will upgrade non-production (sandbox) sites on Thursday, June 15, 2023, between 9:00 AM - 5:00 PM EST.
Non-production upgrades occur during North American business hours to improve the quality of the upgrade process and shorten the production upgrade window.
Downtime will be required for your production and non-production sites during this window.
Upgrade to Core 4.1.3
As part of this major release, the team in Open LMS upgraded the platforms and reviewed the code of versions 4.1, 4.1.1, 4.1.2, 4.1.3, adding the corresponding fixes, improvements, security patches, and important backports.
Release Notes
For the full releases notes from Moodle.org, please see:
Recommended browsers:
Moodle is compatible with any standards compliant web browser. We regularly test Moodle with the following browsers:
Desktop:
Chrome
Firefox
Safari
Edge
Note: Moodle 4.1 does NOT support Internet Explorer 11.
Mobile:
MobileSafari
Google Chrome
For the best experience and optimum security, we recommend that you keep your browser up to date.
Open LMS Mobile App version upgrade
We have updated our mobile App to Moodle 4.2.0 version for Android and IOS devices.
You can find it in the Android and Apple stores available for download.
Moodle Highlights and how they look in Open LMS
This new version of Moodle has improvements in usability, user experience, and navigation, check below how this Moodle highlights look in Open LMS:
Database UX improvements
| | | |
| --- | --- | --- |
| Useful start page | Choice of presets | Approval status |
| | | |
| A useful new start page makes it easier to set up your Database activity. | Three new Database presets are available. | Approval status is more visible and easy to manage. |
Gradebook UX improvements
| | | |
| --- | --- | --- |
| New Grade summary report | User report | Extra Grade letters |
| | | |
| Access a useful new Grade summary report. | Collapse categories for clearer viewing | Increase the number of elements in the grade scale |

Question bank improvements
| | |
| --- | --- |
| Inline editing | New columns |
| | |
| Edit a question title directly from the Question bank. | New "Modified by" and "Last used" columns |

Custom reports enhancements
Additional report sources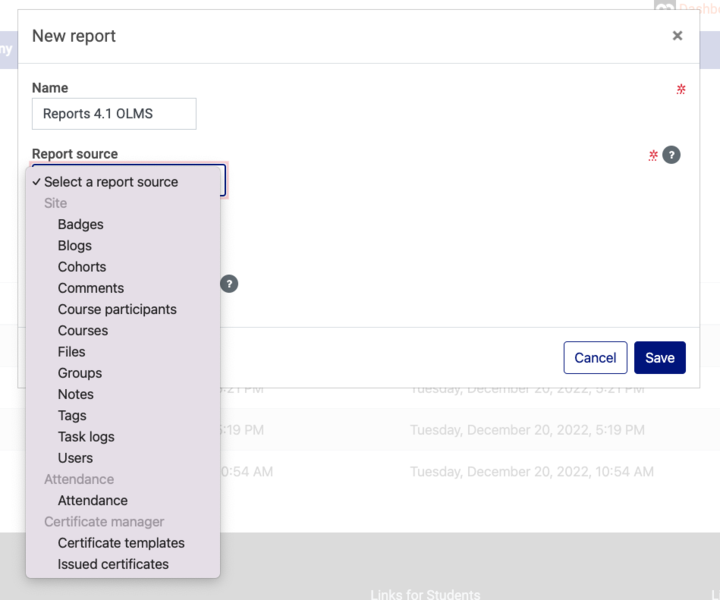 Several extra Custom report sources are now available to improve reporting.

New in integrations
| | |
| --- | --- |
| Guest access to BigBlueButton | Force a language in activities |
| | |
| If enabled by admin, teachers can invite external guests into the BigBlueButton room. | Teachers may force a language in an activity as well as in the course. |

Open LMS Highlights
Programs plugin integration
For this major release, we have included the Programs plugin, a powerful tool to define sets of courses with customizable order completion criteria. This feature was originally designed for Open LMS WORK and from now on is going to be available for Open LMS EDU users.
The main goal of this integration is to reduce the time of course management and increase productivity at the institution for all learners.
You can get more information about the plugin and its capabilities by checking the link below.
https://support.openlms.net/hc/en-us/articles/6784858300445-Programs-Overview
In-App Admin User Onboarding functionality for Programs
With the new Open LMS 4.1 release, we are introducing a new in-app user onboarding for admins! Making it easier than ever for admins to discover and utilize new Open LMS features, and share feedback in the process.
We want to help our Admins to better understand new functionalities, receive direct product feedback, and with it, define what we need to improve in our features.
For this 4.1 release, we will deploy these in-app onboarding flows for our new plugin Programs, and it will only be visible to admin users that are subscribed to the Open LMS Data telemetry initiative.
If you currently are not subscribed to this initiative and want to be, please fill out this short form.

Download PLD triggered rules history
A new PLD functionality was included for this release: in the PLD history tab, at the bottom of the rules list, an "Export" option is now available to download the complete history of triggered PLD rules as a file. Teachers and administrators will be able to download this history as a file in CSV, XML, JSON, XLSX, PDF, or HTML format.
Brickfield Plus strings and links update
We have added Brickfield as part of our product portfolio as our new accessibility toolkit so that every client can upgrade from the core Brickfield functionality to the paid version (tool/bfplus). Admins can now request the upgrade to Brickfield Plus directly on the platform.

Accessibility improvements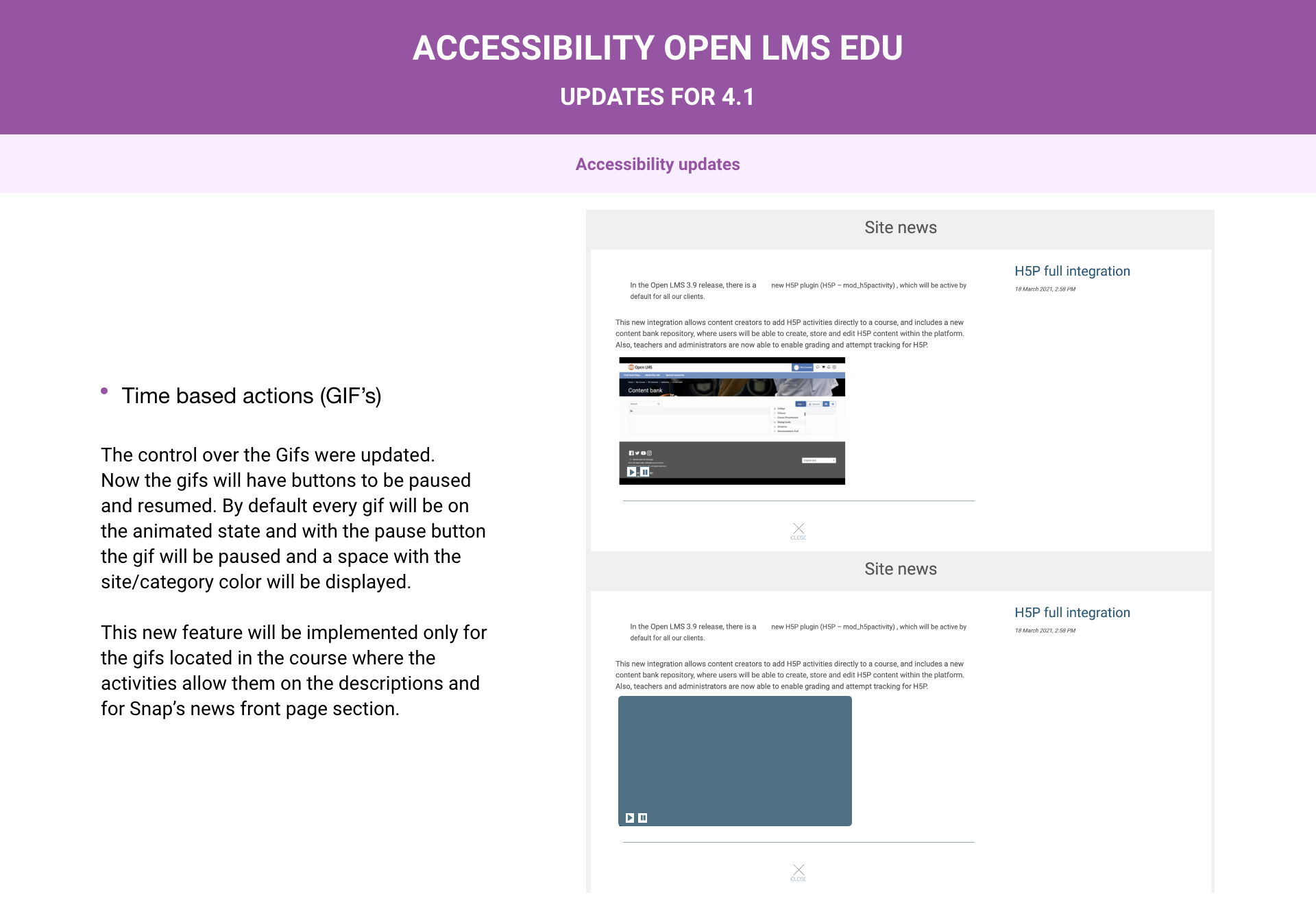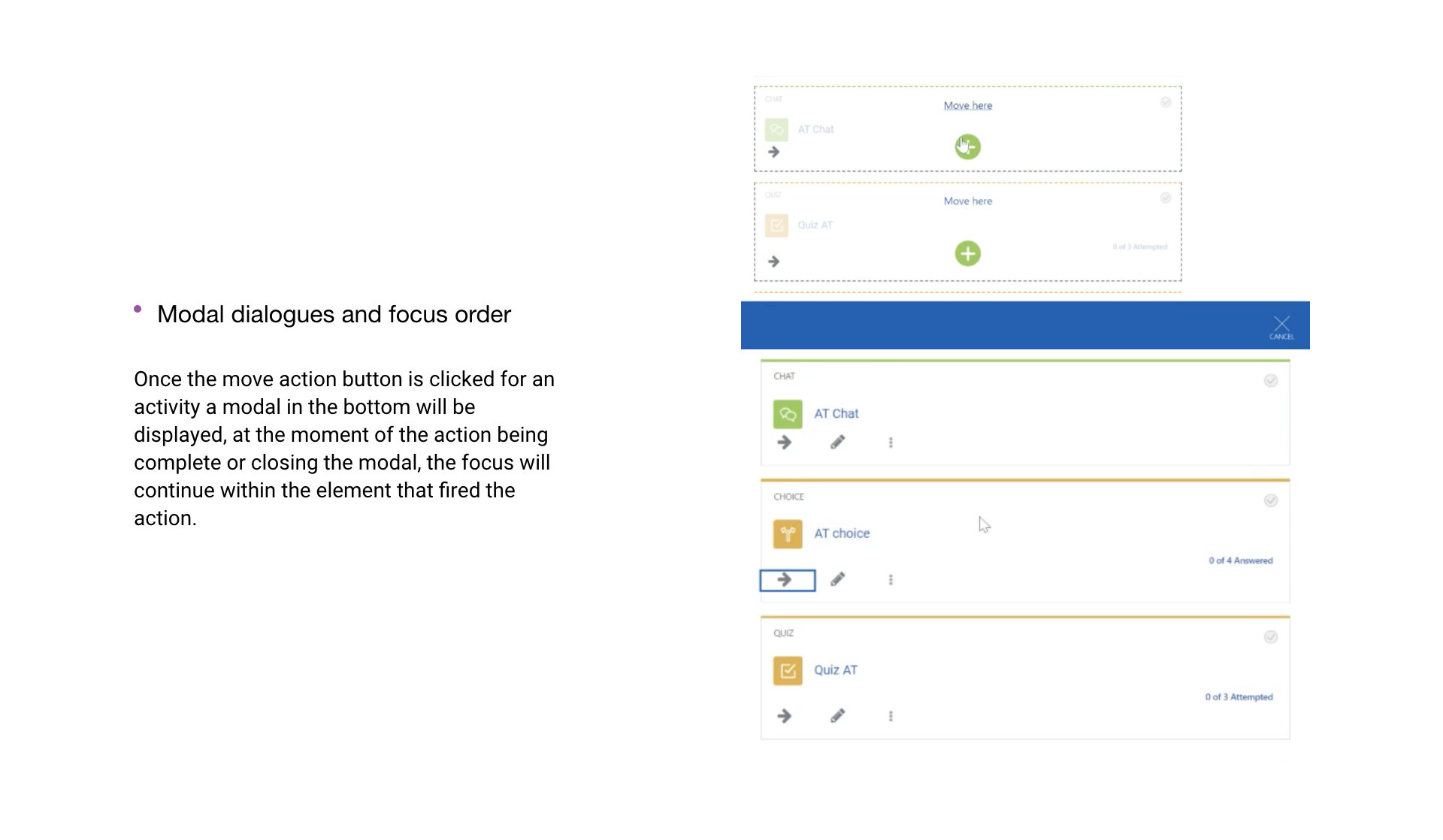 Updated plugins
New core plugins
| | | |
| --- | --- | --- |
| Grade summary | gradereport_summary | 2022112800 |
| TinyMCE | tiny_autosave | 2022112800 |
| | tiny_equation | 2022112800 |
| | tiny_h5p | 2022112800 |
| | tiny_media | 2022112800 |
| | tiny_recordrtc | 2022112800 |
| Editor | editor_tiny | 2022112800 |
| Journal | datapreset_journal | 2022112800 |
| Proposals | datapreset_proposals | 2022112800 |
| Resources | datapreset_resources | 2022112800 |
New Programs plugins
| | | |
| --- | --- | --- |
| OLMS Work Programs | block_myprograms | 2023051500 |
| | enrol_programs | 2023051504 |
| | certificateelement_programs | 2023051500 |
Updated plugins
| | | | |
| --- | --- | --- | --- |
| SAML2 Single sign-on | auth_saml2 | 2022111700 | 2022111701 |
| Attendance | block_attendance | 2022031800 | 2022112500 |
| Checklist | block_checklist | 2022111900 | 2023041400 |
| | mod_checklist | 2022111900 | 2023041400 |
| Openlms Checklist | gradingform_checklist | 2023041100 | 2023041101 |
| Products Catalog | block_products_catalog | 2023030100 | 2023042600 |
| Reports | block_reports | 2022060600 | 2022060601 |
| Intelliboard | local_intelliboard | 2023013000 | 2023041300 |
| Intelliboard Inc. | local_intellicart | 2023030100 | 2023050900 |
| | intellicartpayments_authorize | 2020051300 | 2023042100 |
| | intellicartpayments_stripesca | 2023021400 | 2023031700 |
| | enrol_intellicart | 2023013000 | 2023041300 |
| | auth_intellicart | 2023021500 | 2023050900 |
| Intelliboard next | local_intellidata | 2023030601 | 2023042000 |
| RecordRTC for Atto | atto_recordrtc | 2022041900 | 2022112800 |
| Personalized Learning Designer | local_pld | 2023041100 | 2023041102 |
| Attendance | mod_attendance | 2022083108 | 2023020107 |
| Dialogue | mod_dialogue | 2022032500 | 2022112400 |
| Lightbox Gallery | mod_lightboxgallery | 2022102800 | 2023031000 |
| Questionnaire | mod_questionnaire | 2021062301 | 2022092201 |
| Workplace certificate | certificateelement_border | 2022082400 | 2023042500 |
| | certificateelement_code | 2022082400 | 2023042500 |
| | certificateelement_date | 2022082400 | 2023042500 |
| | certificateelement_digitalsignature | 2022082400 | 2023042500 |
| | certificateelement_image | 2022082400 | 2023042500 |
| | certificateelement_program | 2022082400 | 2023042500 |
| | certificateelement_text | 2022082400 | 2023042500 |
| | certificateelement_userfield | 2022082400 | 2023042500 |
| | certificateelement_userpicture | 2022082400 | 2023042500 |
| | tool_certificate | 2022082400 | 2023042500 |
| Completion Progress | block_completion_progress | 2022042000 | 2022112800 |
| Grid Format | format_grid | 2022072203 | 2022112604 |
| Collapsed Topics | format_topcoll | 2022041701 | 2022112601 |
| Group choice | mod_choicegroup | 2022092202 | 2023013000 |
| Workplace course certificate | mod_coursecertificate | 2022082400 | 2023042500 |
| Journal | mod_journal | 2022091600 | 2023042400 |
| Quizventure | mod_quizgame | 2022030300 | 2022112200 |
| xAPI Launch Link | mod_tincanlaunch | 2018110100 | 2023041300 |
| Zoom meeting | mod_zoom | 2023021400 | 2023051900 |
| Course catalogue | local_catalogue | 2020121101 | 2023051500 |
| Respondus lockdown browser | block_lockdownbrowser | 2021102701 | 2022101101 |
| | quizaccess_lockdownbrowser | 2021102701 | 2022101101 |
Plugins removed by Moodle
End of life of plugins
In this 4.1 upgrade, we deactivate the following plugins:
Security Fixes
Backport of core security fixes

Bug Fixes and Minor Enhancements
MR-4.0-MP2-HF1

Update Brickfield tool/bfplus strings and links

MR-4.0-MP2-HF2

Open Forum Discussion Subject text is overlapping on Mobile browsers

Description is displaying twice for Collab activities

Duplicated name Activity Questionnaire item

SafeAssign- do not reattempt deletion of not found submissions

Core patch from MDL-76016 - Goutte driver version bump (composer dependency)

MR-4.0-MP2-HF3

Backport 4.1.3 security fixes and security improvements to 4.0+2

MR-4.0-MP2-HF4

Calendar event table performance is slow

MR-4.0-MP2-HF5

auth_saml2 does not respect allowaccountssameemail setting

MR-4.1

CRON - generalexceptionmessage is thrown on Cron's execution
Checkbox of courses displays over category actions menu

Outcomes, "Unmapped quiz questions" table does not have correct data

Problems adding one or more background images to a custom certificate

Essaywiris renderer issue

Conduit Cohort user validation check incompatible with PostgreSQL

Theme_snap: Course Display design_mod_page when enabled does not render video links

Outcomes, Error reading from database in Coverage link

PLD- Data error when an activity is deleted

In Snap theme the File resource doesn't accept the "Display" configuration.

Equations are displayed incorrectly in Page Activity preview in Snap

Placeholder strings in Snap for password/username do not accept spaces

Add indexes to improve performance of course deletes

Boost, tiles course format - Course index is not displayed

Fix deprecations of plagiarism functions to fix Turnitin tests

Update the icon of an LTI activity in each section (Custom icons)

Snap course cover image improvements

Admin SQL improvements

Snap AX - Fixes from the VPAT vendor

Snap, tiles course format - Dashboard features are not available in 4.1

Checklist grading: Forum support part 2

CLI script - SafeAssign invalid instructors

Conduit course synchronization with profiledata

Pull Programs into EDU

'My Programs', 'Programs Catalog' quick links.

Allow Open LMS Language export tool to exclude core strings on export

Snap - Messaging drawer display in grader user report behavior should be reviewed

Version bump - PLD plugins for Work

New feature - Download PLD rule history (PLD legacy)

My Programs', 'Course catalog', 'Programs Catalog' quick links
Release problems identified
| | |
| --- | --- |
| inner_build_course_cache, unexpectedly found non-versioned cache entry | The "inner_build_course_cache" and "unexpectedly found non-versioned cache entry" errors are related to the internal caching system of the Open LMS platform. Caching is a process that helps improve the performance and loading speed of courses by storing certain data temporarily. However, in this case, an error has occurred during the caching process, resulting in certain courses not being able to load. |
| Missing Course Admin links with 4.1 upgrade | The Reports tabs/links and Brickfield links are missing from the Course Administration menu as a result of the misnaming of the "report/editlicense" plugin in the backend. |
| SNAP - Single View unable to override grade; requires edit to be enabled | The SNAP theme Single view, which controls the appearance and layout of Open LMS, is missing the "Turn editing on" button which is preventing bulk override, exclude, or insert grades actions. |