Release Date
July 13, 2023
North America, Central America, South America (Virginia, USA datacenter): Clients will be upgraded according to their timezone:

Eastern, Amazon, and Newfoundland-Labrador Timezones: July 13, 2023, at 12:30 AM - 6:30 AM EDT

Central Timezone: July 13, 2023, at 12:30 AM - 6:30 AM CDT

Mountain and Pacific Timezones: July 13, 2023, at 12:30 AM - 6:30 AM PDT

South America (Sao Paulo, Brazil datacenter): July 13, 2023, at 12:30 AM - 6:30 AM BRT

EMEA (Frankfurt data center): July 13, 2023, at 12:30 AM - 6:30 AM CEST

APAC excluding Australia and New Zealand (Singapore datacenter): July 13, 2023, 2022, at 12:30 AM - 6:30 AM SGT

Australia and New Zealand (Sydney, AU datacenter): July 13, 2023, at 12:30 AM - 6:30 AM AEDT
Non-Production Sites Upgrade Schedule
We will upgrade non-production (sandbox) sites on Thursday, June 15, 2023, between 9:00 AM - 5:00 PM EST.
Non-production upgrades occur during North American business hours to improve the quality of the upgrade process and shorten the production upgrade window.
Downtime will be required for your production and non-production sites during this window.
Open LMS Highlights
Programs plugin integration
For this major release, we have included the Programs plugin, a powerful tool to define sets of courses with customizable order completion criteria. This feature was originally designed for Open LMS WORK and from now on is going to be available for Open LMS EDU users.
The main goal of this integration is to reduce the time of course management and increase productivity at the institution for all learners.
| | |
| --- | --- |
| | |
You can get more information about the plugin and its capabilities by checking the link below.
https://support.openlms.net/hc/en-us/articles/6784858300445-Programs-Overview
In-App Admin User Onboarding functionality for Programs
With the new Open LMS 4.1 release, we are introducing a new in-app user onboarding for admins! Making it easier than ever for admins to discover and utilize new Open LMS features, and share feedback in the process.
We want to help our Admins to better understand new functionalities, receive direct product feedback, and with it, define what we need to improve in our features.
For this 4.1 release, we will deploy these in-app onboarding flows for our new plugin Programs, and it will only be visible to admin users that are subscribed to the Open LMS Data telemetry initiative.
If you currently are not subscribed to this initiative and want to be, please fill out this short form.

Accessibility improvements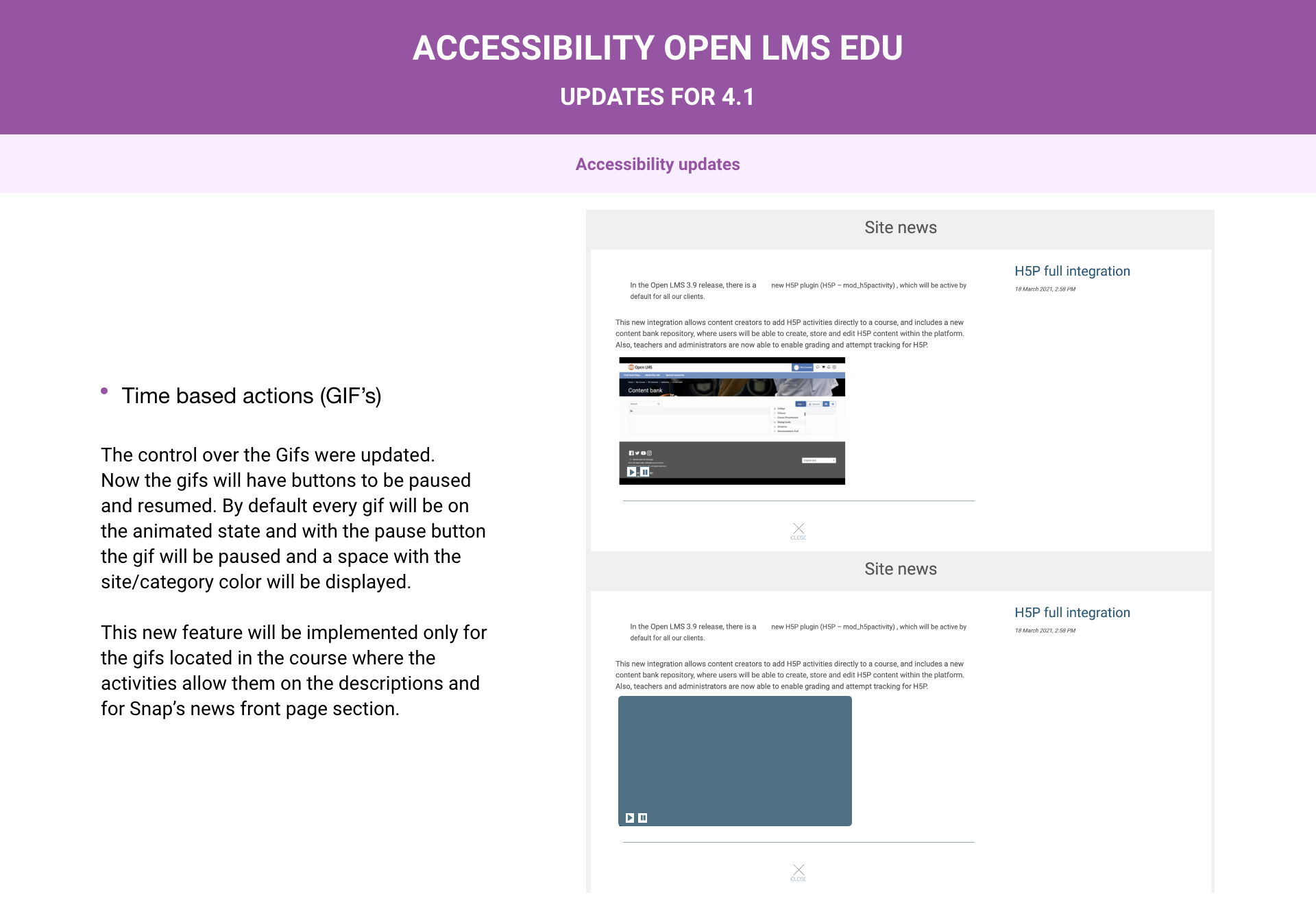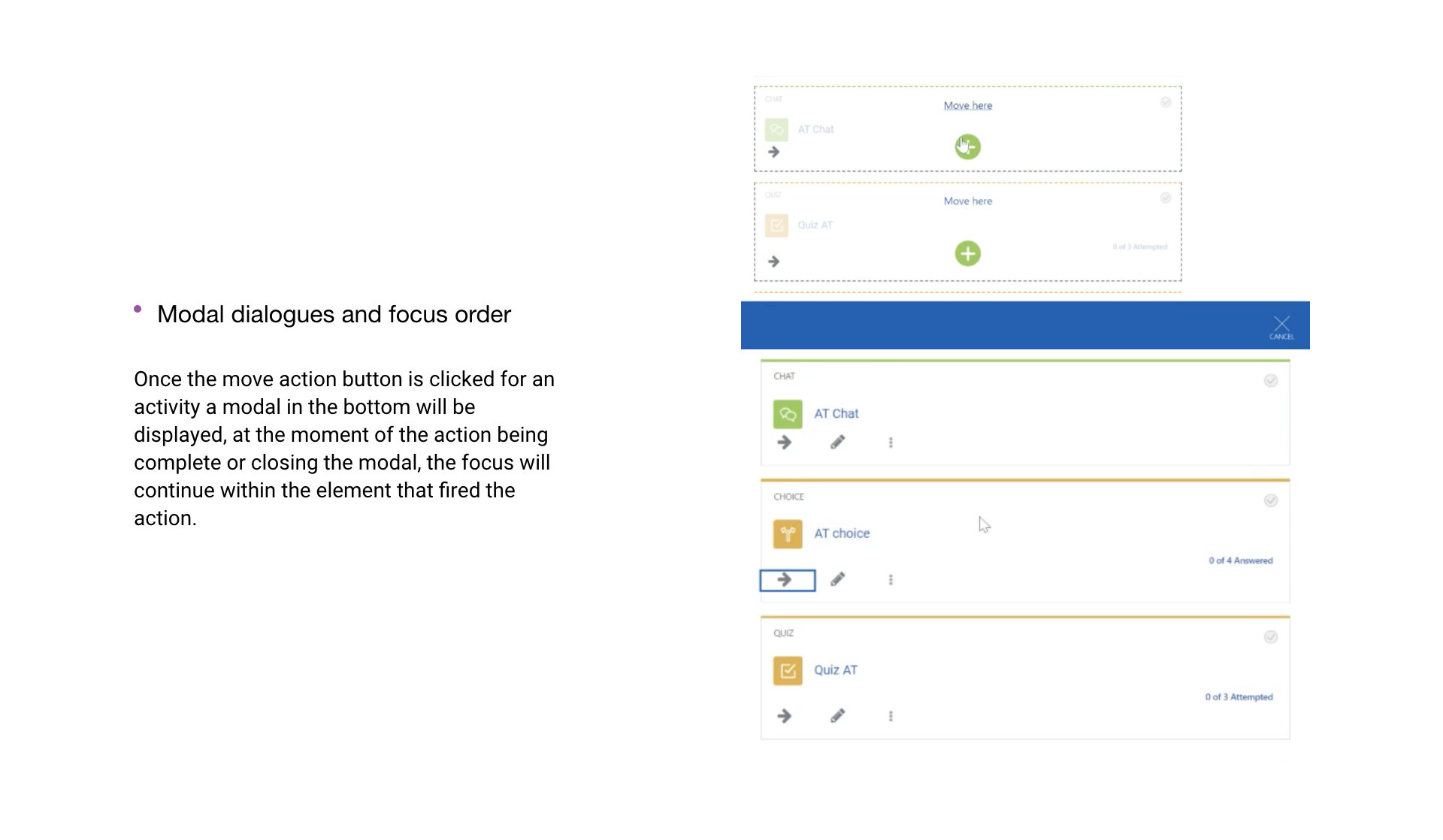 Updated plugins
| | | | |
| --- | --- | --- | --- |
| SAML2 Single sign on | auth_saml2 | 2022111700 | 2022111701 |
| Attendance | block_attendance | 2022031800 | 2022112500 |
| Checklist | block_checklist | 2022111900 | 2023041400 |
| | mod_checklist | 2022111900 | 2023041400 |
| Openlms Checklist | gradingform_checklist | 2023041100 | 2023041101 |
| Products Catalog | block_products_catalog | 2023030100 | 2023042600 |
| Reports | block_reports | 2022060600 | 2022060601 |
| Intelliboard | local_intelliboard | 2023013000 | 2023041300 |
| Intelliboard Inc. | local_intellicart | 2023030100 | 2023050900 |
| | intellicartpayments_authorize | 2020051300 | 2023042100 |
| | intellicartpayments_stripesca | 2023021400 | 2023031700 |
| | enrol_intellicart | 2023013000 | 2023041300 |
| | auth_intellicart | 2023021500 | 2023050900 |
| RecordRTC for Atto | atto_recordrtc | 2022041900 | 2022112800 |
| Intelliboard next | local_intellidata | 2023030601 | 2023042000 |
| Personalized Learning Designer | local_pld | 2023041100 | 2023041102 |
| Attendance | mod_attendance | 2022083108 | 2023020107 |
| BigBlueButtonBN | mod_bigbluebuttonbn | 2022041901 | 202211280 |
| Dialogue | mod_dialogue | 2022032500 | 2022112400 |
| Lightbox Gallery | mod_lightboxgallery | 2022102800 | 2023031000 |
| Questionnaire | mod_questionnaire | 2021062301 | 2022092201 |
| Respondus 4.0 Web Services | mod_respondusws | 2020021400 | 2022050900 |
Security Fixes
Backport of core security fixes
MSA-23-0014 - TinyMCE loaders susceptible to Arbitrary Folder Creation

MSA-23-0015 - Minor SQL injection risk in external Wiki method for listing pages
Bug Fixes and Minor Enhancements
MR-4.0-MP2-HF1

Update Brickfield tool/bfplus strings and links

MR-4.0-MP2-HF2

Open Forum Discussion Subject text is overlapping on Mobile browsers

Description is displaying twice for Collab activities

Duplicated name Activity Questionnaire item

SafeAssign- do not reattempt deletion of not found submissions

Core patch from MDL-76016 - Goutte driver version bump (composer dependency)

MR-4.0-MP2-HF3

Backport 4.1.3 security fixes and security improvements to 4.0+2

MR-4.0-MP2-HF4

Calendar event table performance is slow

MR-4.0-MP2-HF5

auth_saml2 does not respect allowaccountssameemail setting

MR-4.1

CRON - generalexceptionmessage is thrown on Cron's execution

Checkbox of courses displays over category actions menu

Outcomes, "Unmapped quiz questions" table does not have correct data

Problems adding one or more background images to a custom certificate

Bug: Essaywiris renderer issue

Conduit Cohort user validation check incompatible with PostgreSQL

Theme_snap: Course Display design_mod_page when enabled does not render video links

Outcomes, Error reading from database in Coverage link

Replace version timestamp in Respondus plugin

Review placement and spacing of Ally indicators for embedded files

Data error when an activity is deleted

In Snap theme the File resource doesn't accept the "Display" configuration.

Equations are displayed incorrectly in Page Activity preview in Snap

Placeholder strings in Snap for password/username do not accept spaces

Add indexes to improve performance of course deletes

Boost, tiles course format - Course index is not displayed

Fix deprecations of plagiarism functions to fix Turnitin tests

Change icons in Calendar and other views to have the same design as Snap - Part 6

Update the icon of an LTI activity in each section (Custom icons)

Snap course cover image improvements

Admin SQL improvements

Snap AX - Fixes from the VPAT vendor QA session - Part 3

Snap, tiles course format - Dashboard features are not available in 4.1