Release Schedule


Release Date
Production Data Center Upgrade Schedule
December 28, 2022
North America, Central America, South America (Virginia, USA datacenter): Clients will be upgraded according to their timezone:

Eastern, Amazon, and Newfoundland-Labrador Timezones: December 28, 2022, at 12:30 AM - 6:30 AM EST

Central Timezone: December 28, 2022, at 12:30 AM - 6:30 AM CST

Mountain and Pacific Timezones: December 28, 2022, at 12:30 AM - 6:30 AM PST

South America (Sao Paulo, Brazil datacenter): December 28, 2022, at 12:30 AM - 6:30 AM BRT

EMEA (Frankfurt datacenter): December 28, 2022, at 12:30 AM - 6:30 AM CET

APAC excluding Australia and New Zealand (Singapore datacenter): December 28, 2022, at 12:30 AM - 6:30 AM SGT

Australia and New Zealand (Sydney, AU datacenter): December 28, 2022, at 12:30 AM - 6:30 AM AEDT
Non-Production Sites Upgrade Schedule
We will upgrade non-production (sandbox) sites on Thursday, December 1st, 2022, between 9:00 AM - 5:00 PM EST.
Non-production upgrades occur during North American business hours to improve the quality of the upgrade process and shorten the production upgrade window.
Downtime will be required for your production and non-production sites during this window.
Major Features
Upgrade to Core 4.0.5
As part of this major release, the team in Open LMS upgraded the platforms and reviewed the code of versions 4.0, 4.0.1, 4.0.2, 4.0.3, 4.0.4, and 4.0.5, adding the corresponding fixes, improvements, security patches, and important backports.
Release Notes
For the full releases notes from Moodle.org, please see:
Recommended browsers:
Moodle is compatible with any standards-compliant web browser. We regularly test Moodle with the following browsers:
Desktop:
Chrome

Firefox

Safari

Edge Note: Moodle 4.0 does NOT support Internet Explorer 11.
Safari 7 and below has known compatibility issues with Moodle 4.0.
Mobile:
MobileSafari

Google Chrome For the best experience and optimum security, we recommend that you keep your browser up to date.
Moodle Highlights and how they look in Open LMS
Improved Usability and Navigation
This new version of Moodle has improvements in usability, user experience, and navigation, which are especially evident if you use the Boost theme.
SNAP, in addition to Classic, is going to maintain a very similar look and feel to 3.11MP5.
General Improvements
Primary and Secondary Menus

Visible option to enter edit mode

Collapsible and better aesthetic blocks

Dashboard with improved calendar and timeline

New My Courses Tab

Contextual course navigation

Improved course Index

Collapsible course sections
Primary and Secondary Menus
There are new Primary and secondary menus in the navigation of the platform that can be found in the header and within the body of different sites. This secondary menu will show contextual navigation, depending on the user's role and site.
Visible Edit Mode Option
Boost now has a visible edit mode option that is always visible on the top right corner of the platform. This element was not adopted into SNAP or Classic, both have their traditional Turn edition on options.
Improved collapsible blocks
Boost has improved the user experience of the blocks, they are now collapsible and have an enhanced look and feel.
Boost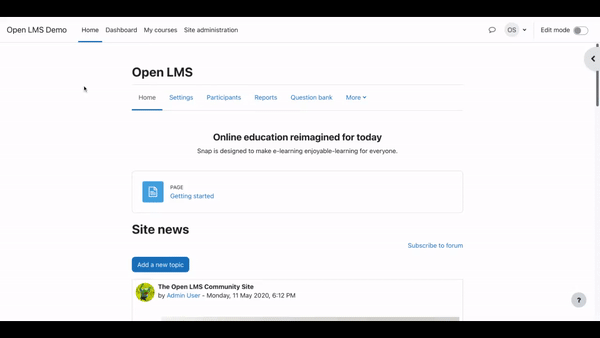 SNAP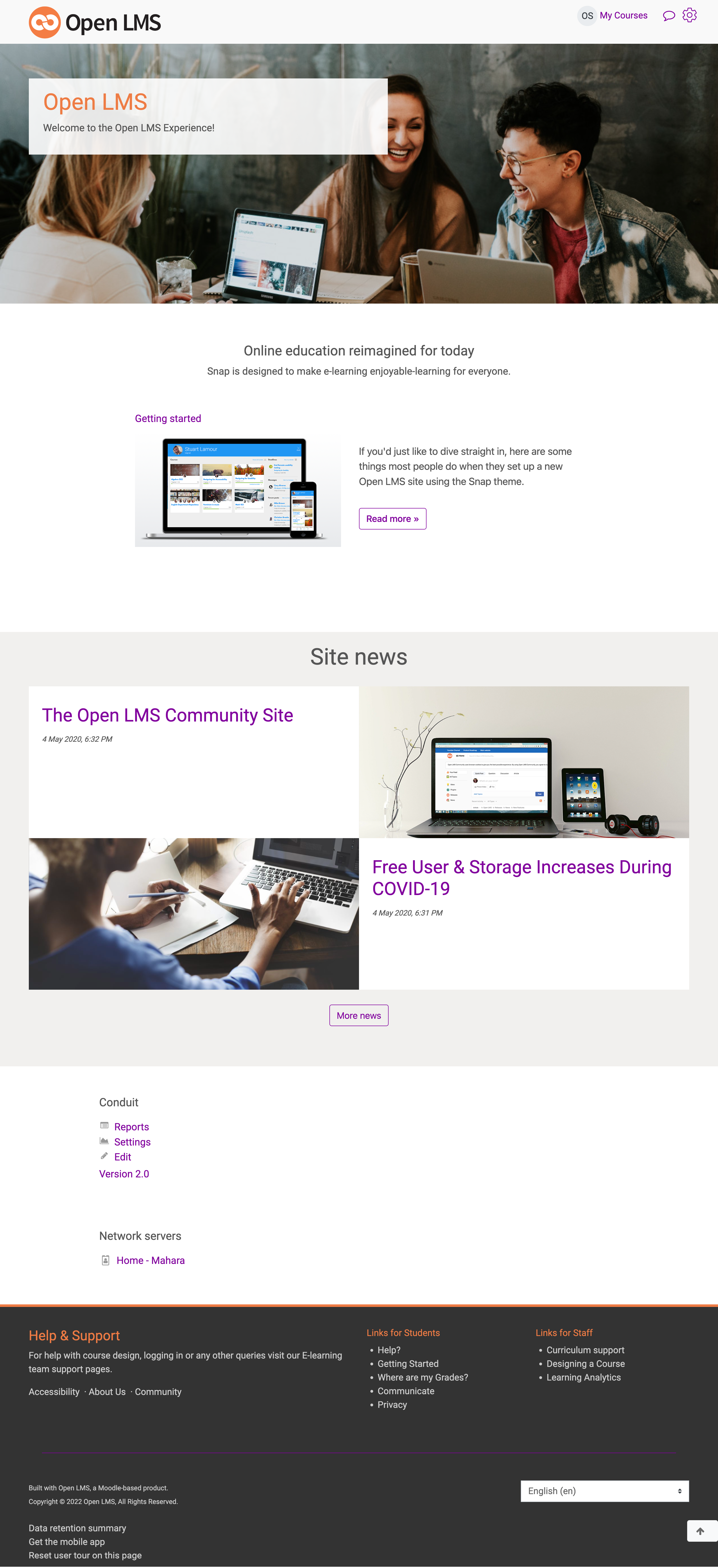 Classic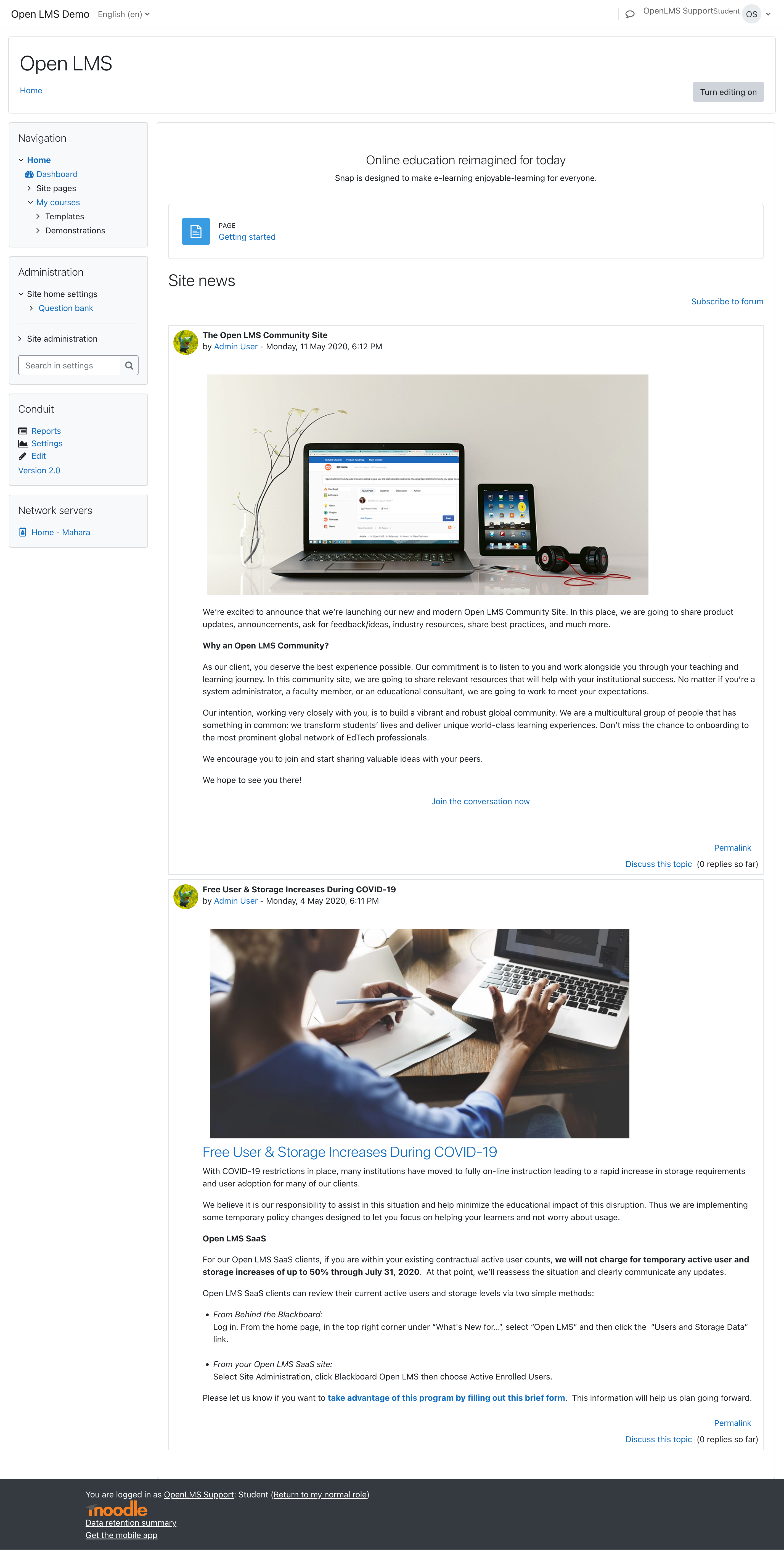 Dashboard with improved calendar and timeline
The dashboard view has now an improved calendar with a new timeline functionality. This timeline improvement will help users stay on top of their deadlines, and easily sort them by date, course, or timeframe.
All improvements were adopted by Boost, SNAP, and Classic.
Boost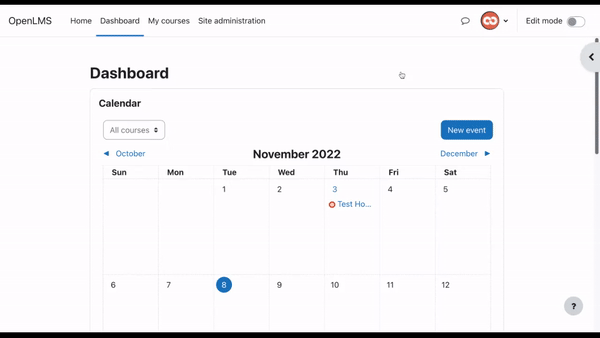 SNAP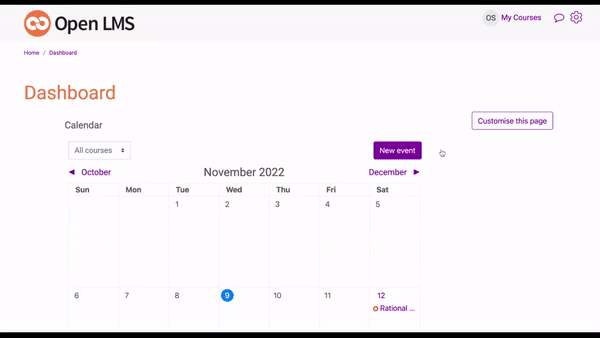 Classic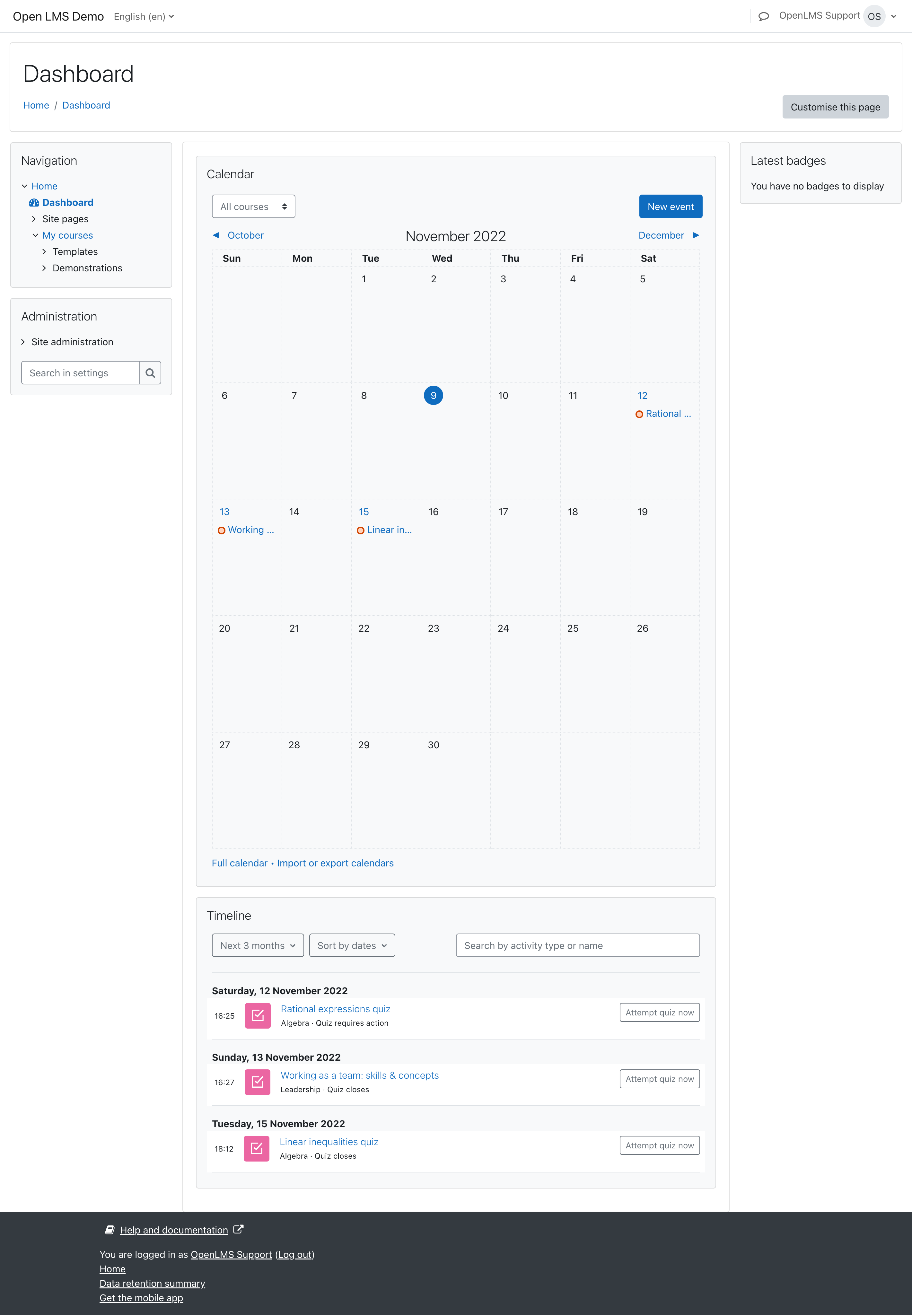 My Courses Tab
There is a new My courses tab in the 4.0 release. This tab is visible in the header of themes Boost and Classic and will redirect the users to their enrolled courses.
This view has improved filters and an intuitive search bar
SNAP has not adopted this new tab and maintains its original My courses tab.
Boost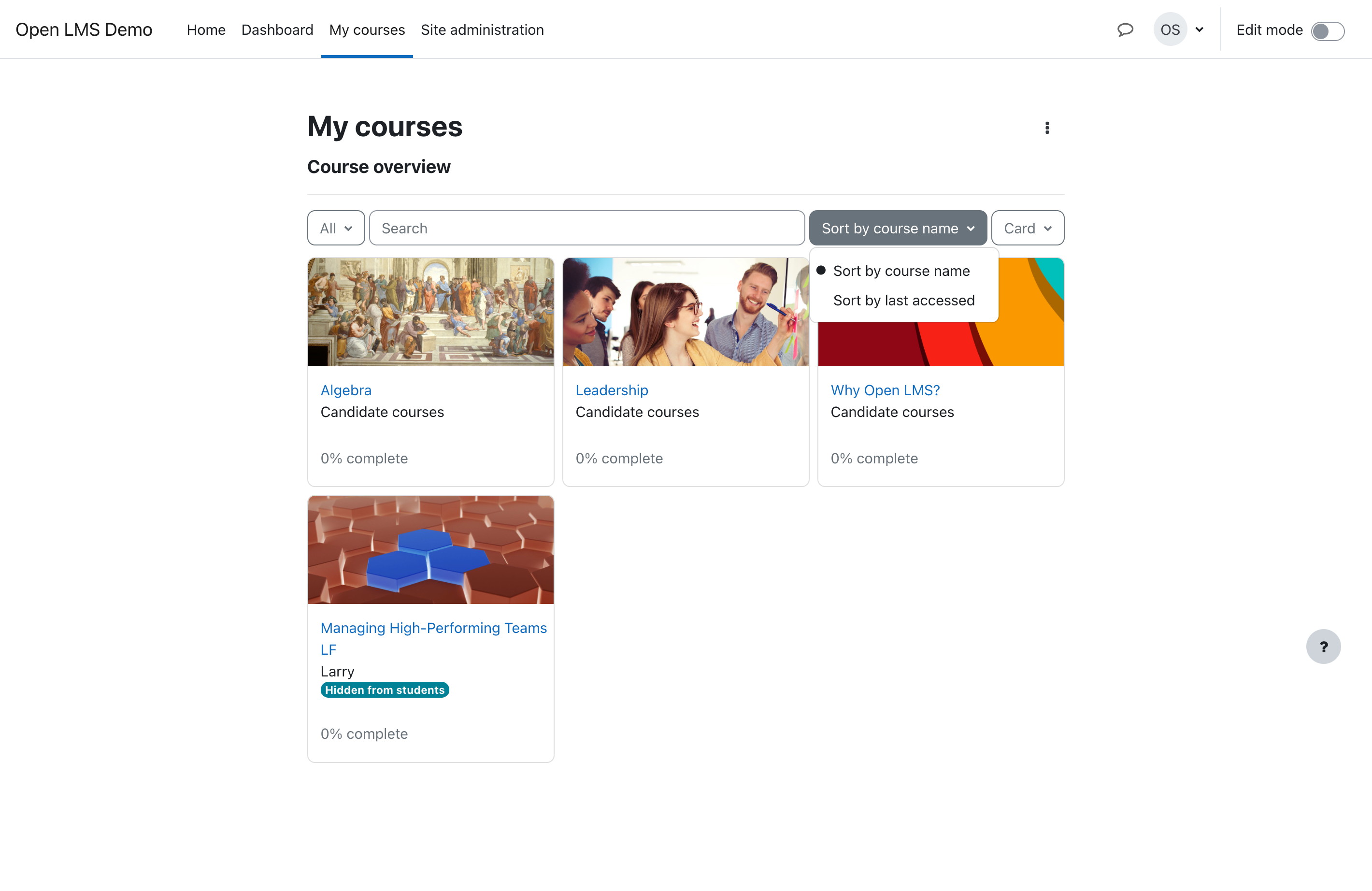 Classic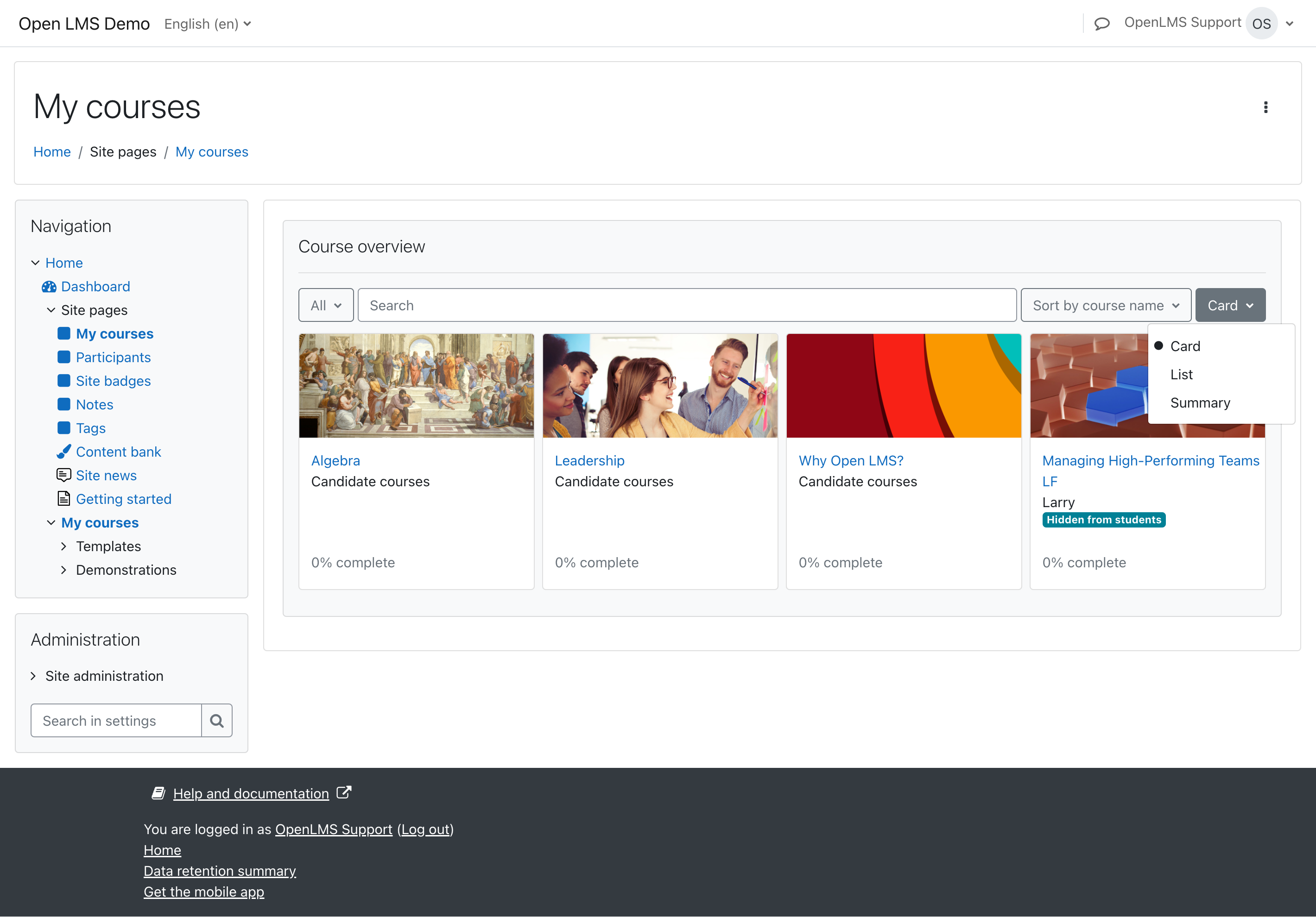 SNAP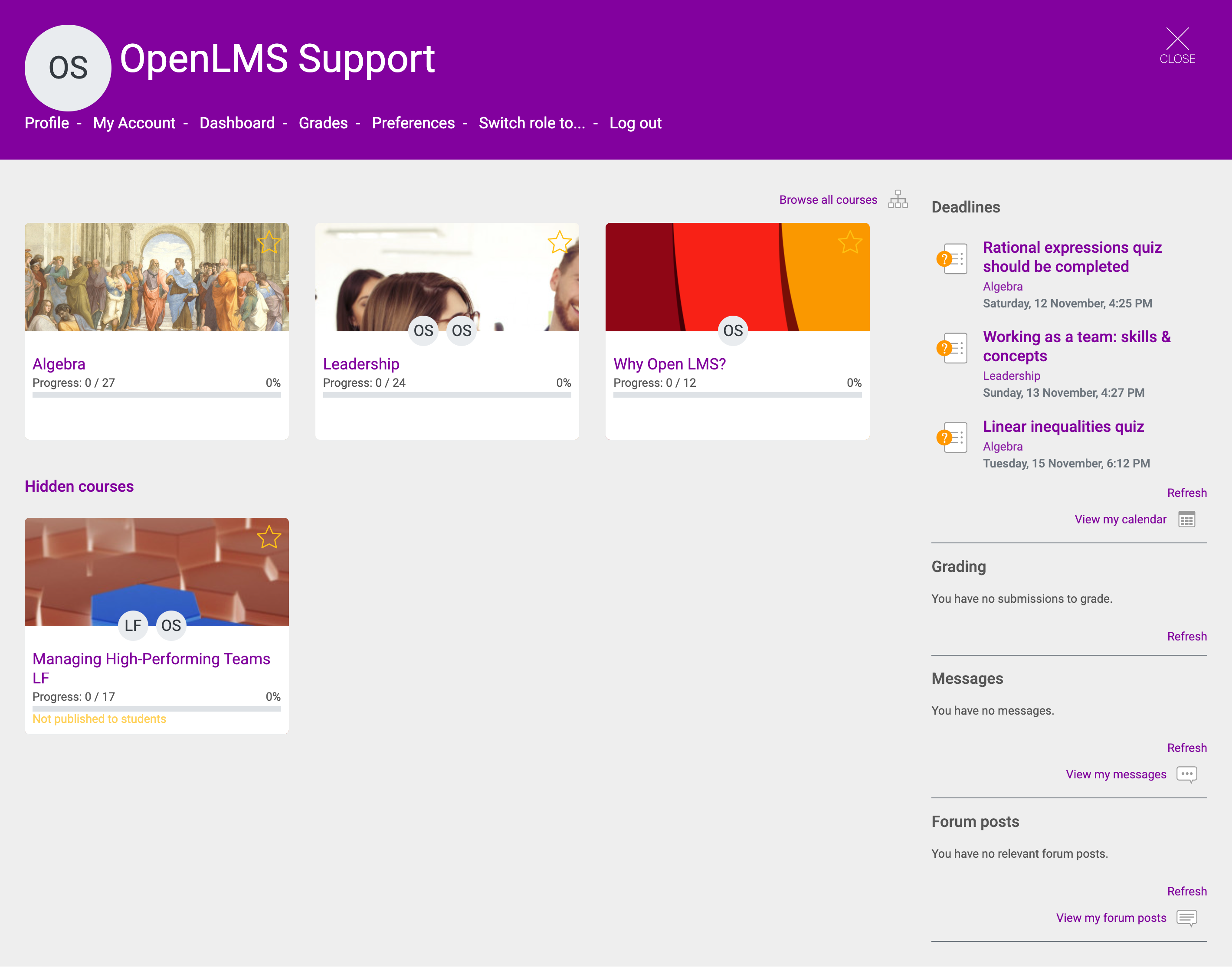 Contextual course navigation
A contextual course menu was added in Boost to ease the navigation of its users. Now, at the top of the course body, users will find a new menu, that will show different elements depending on their role.
Course index
Boost now has an improved course index, which will ease the course content's navigation. This index has collapsible sections and a grey/green indicator for completed content.
This contextual navigation and the course index functionality were not adopted by SNAP or Classic, which will maintain their course navigation as before.
Boost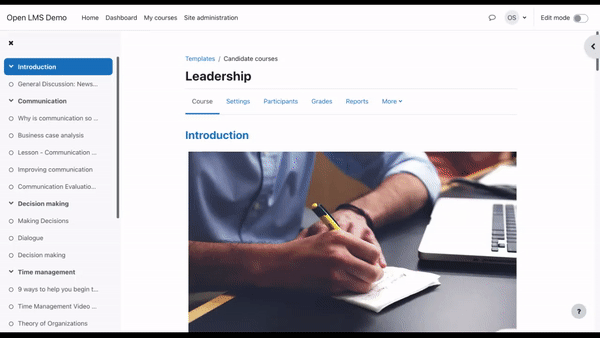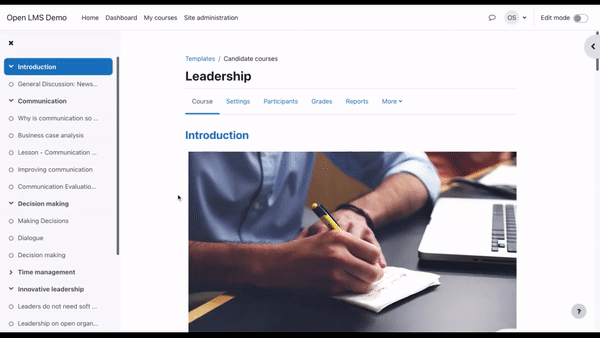 SNAP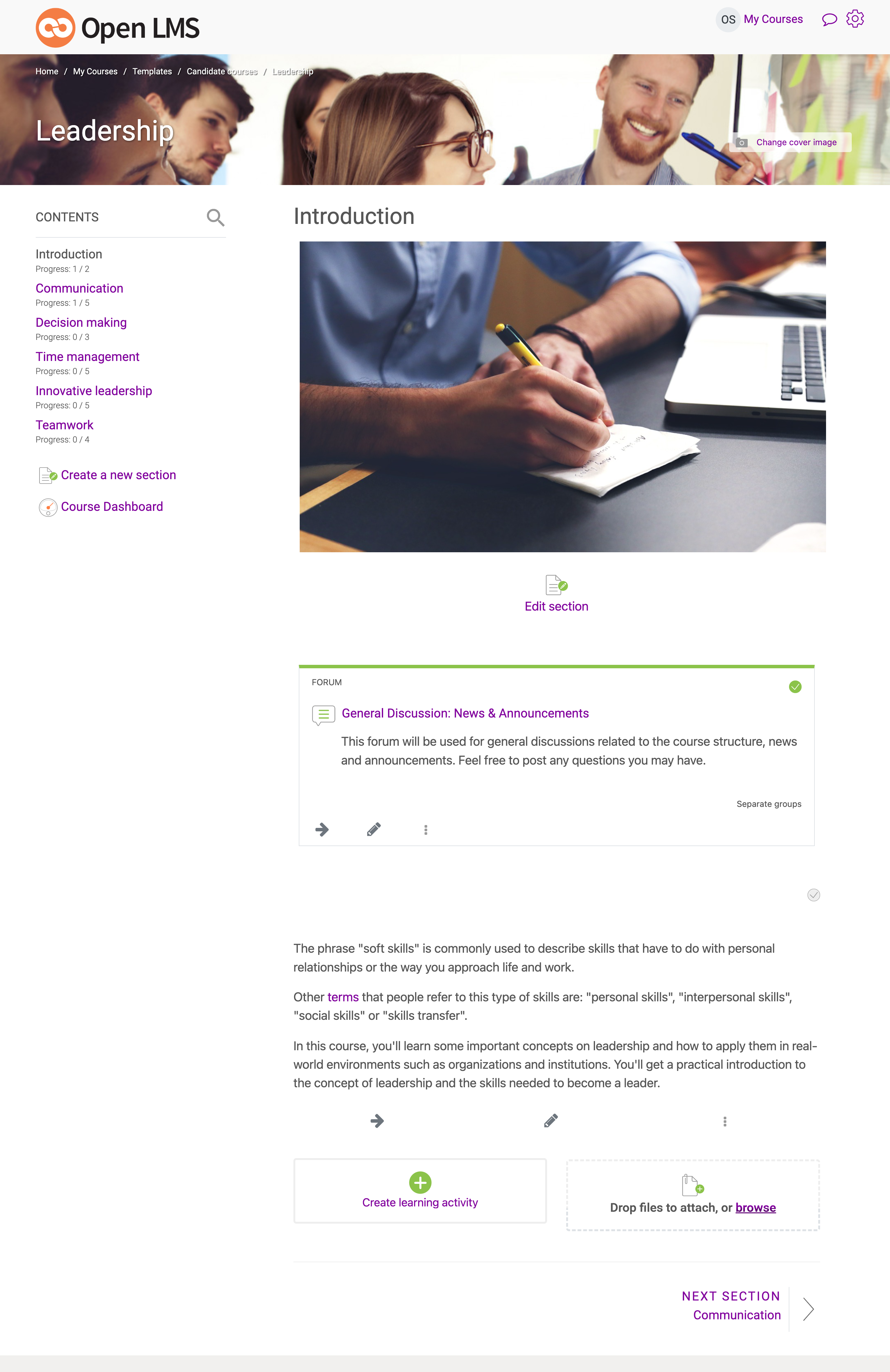 Classic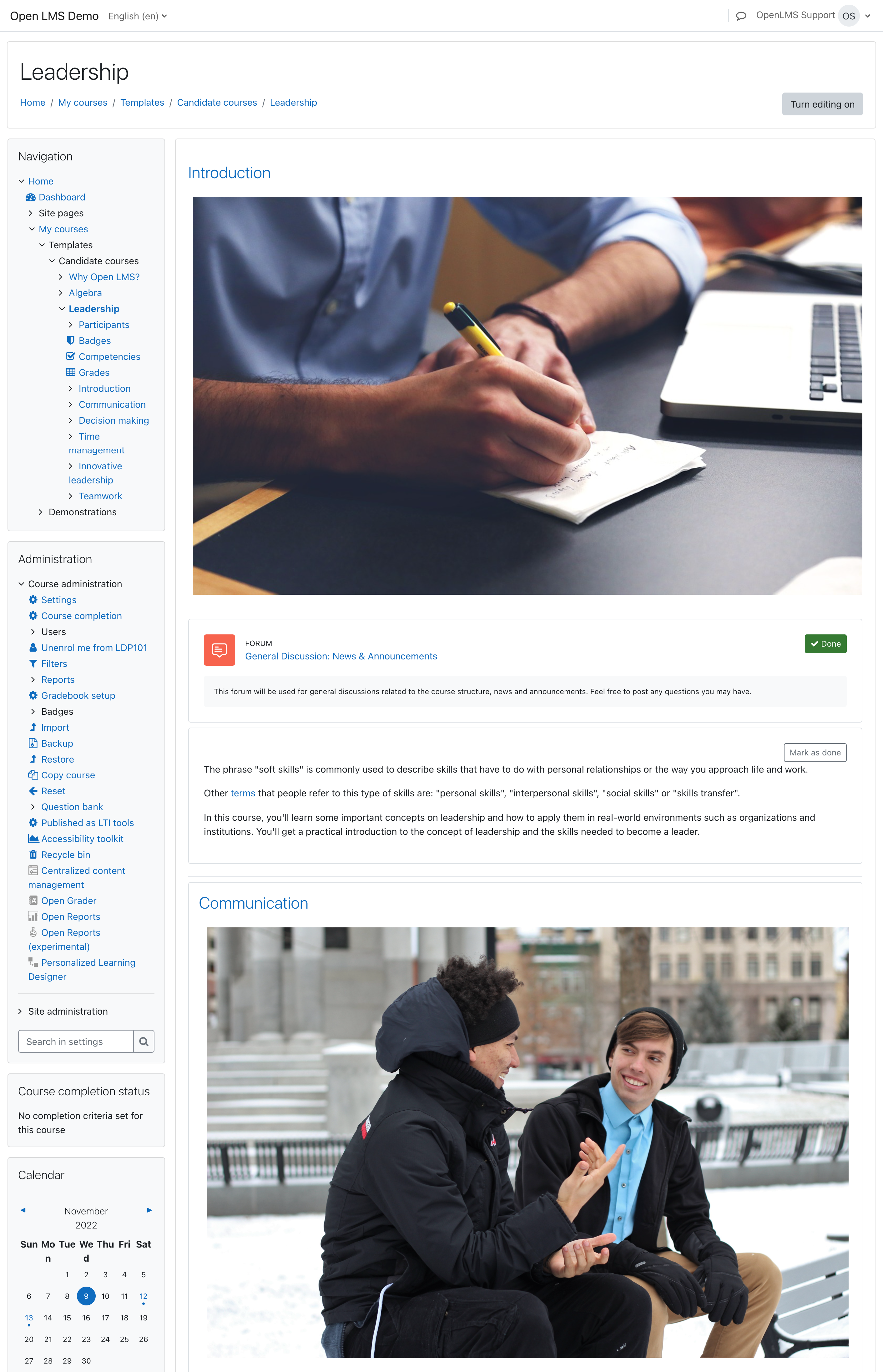 New resource and activity icons
With this release, Moodle introduced a new set of activity and resource icons, with a new color scheme.
Green: Collaboration

Pink: Assessment

Red: Communication

Blue: Content
Classic has adopted all new icons and colors. SNAP adopted the new package of icons, but kept their original SNAP colors.
Boost and Classic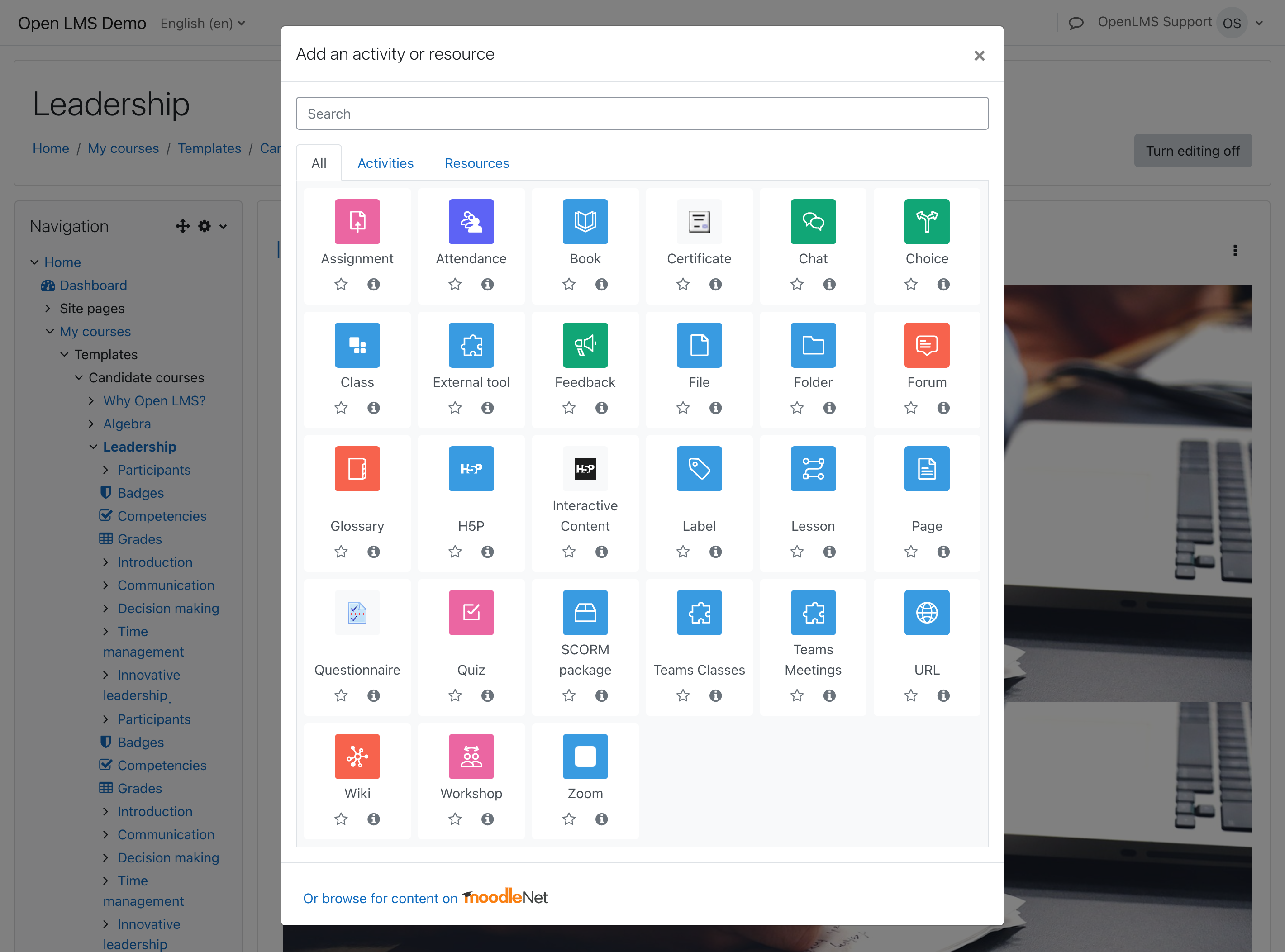 SNAP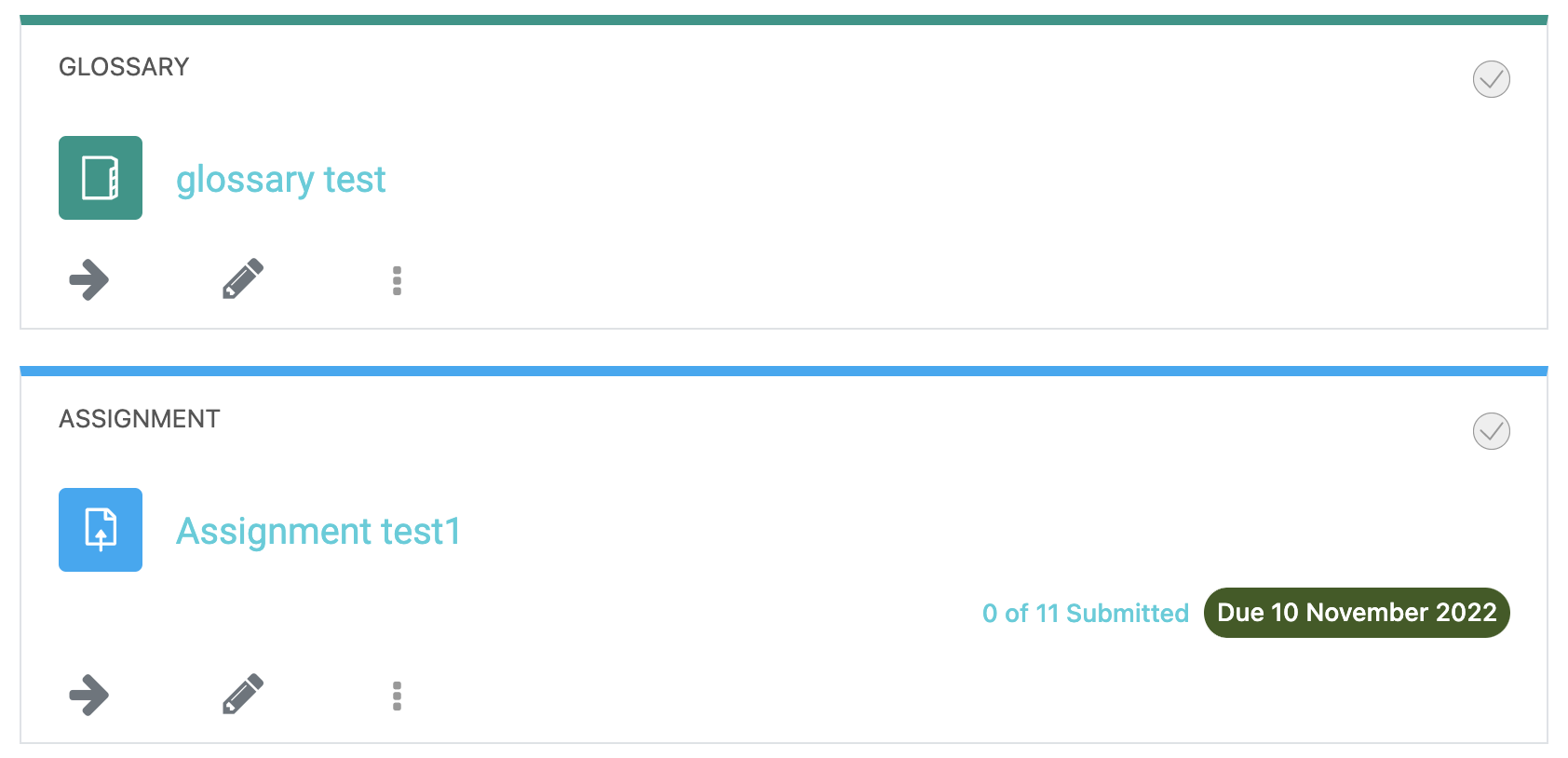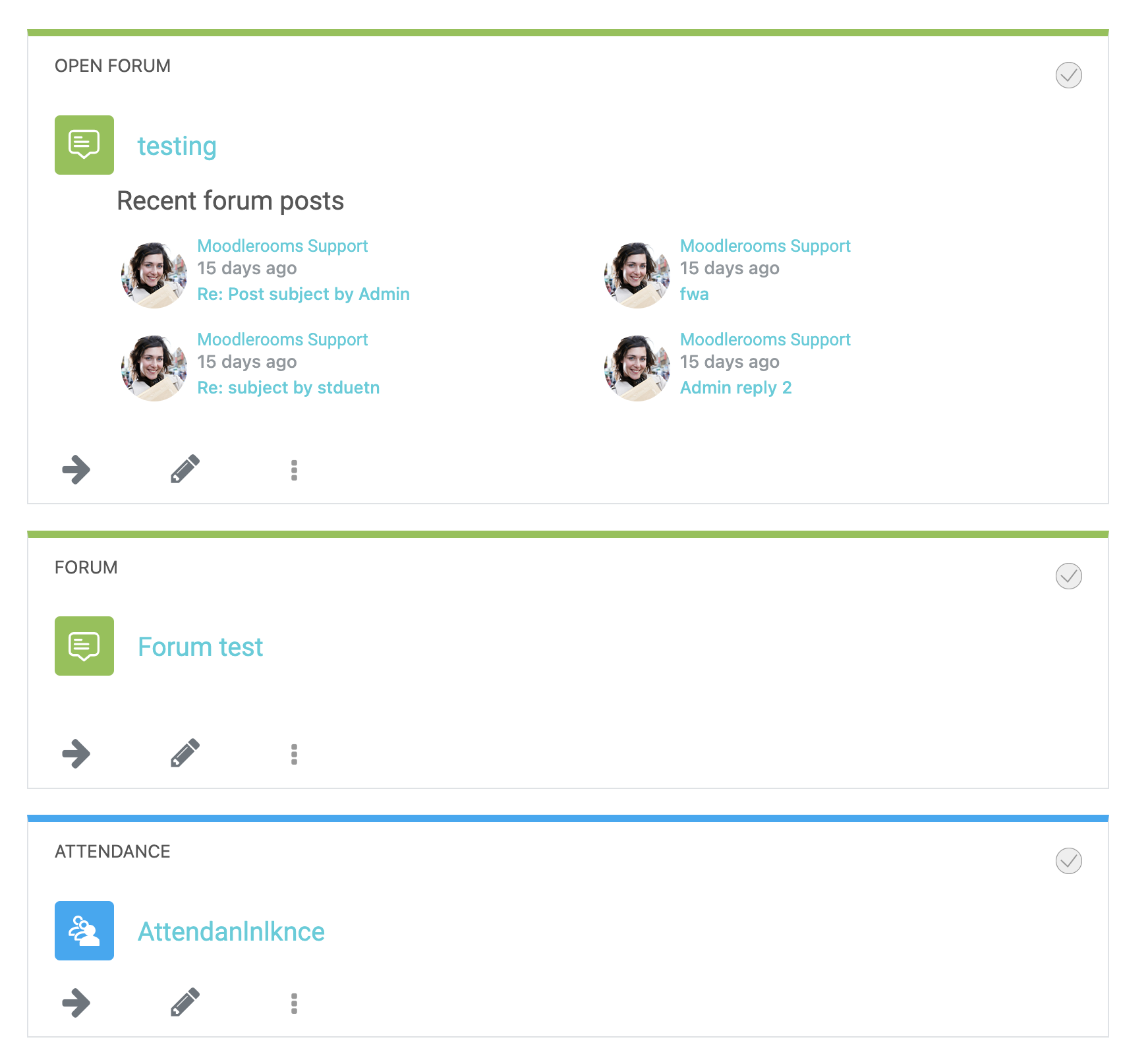 Assignment improvements
Assignments in this new version have interesting new features, such as a new activity description section, a new condition: Grade to pass, and timed assignments. These enhancements can be founds transversal to all themes.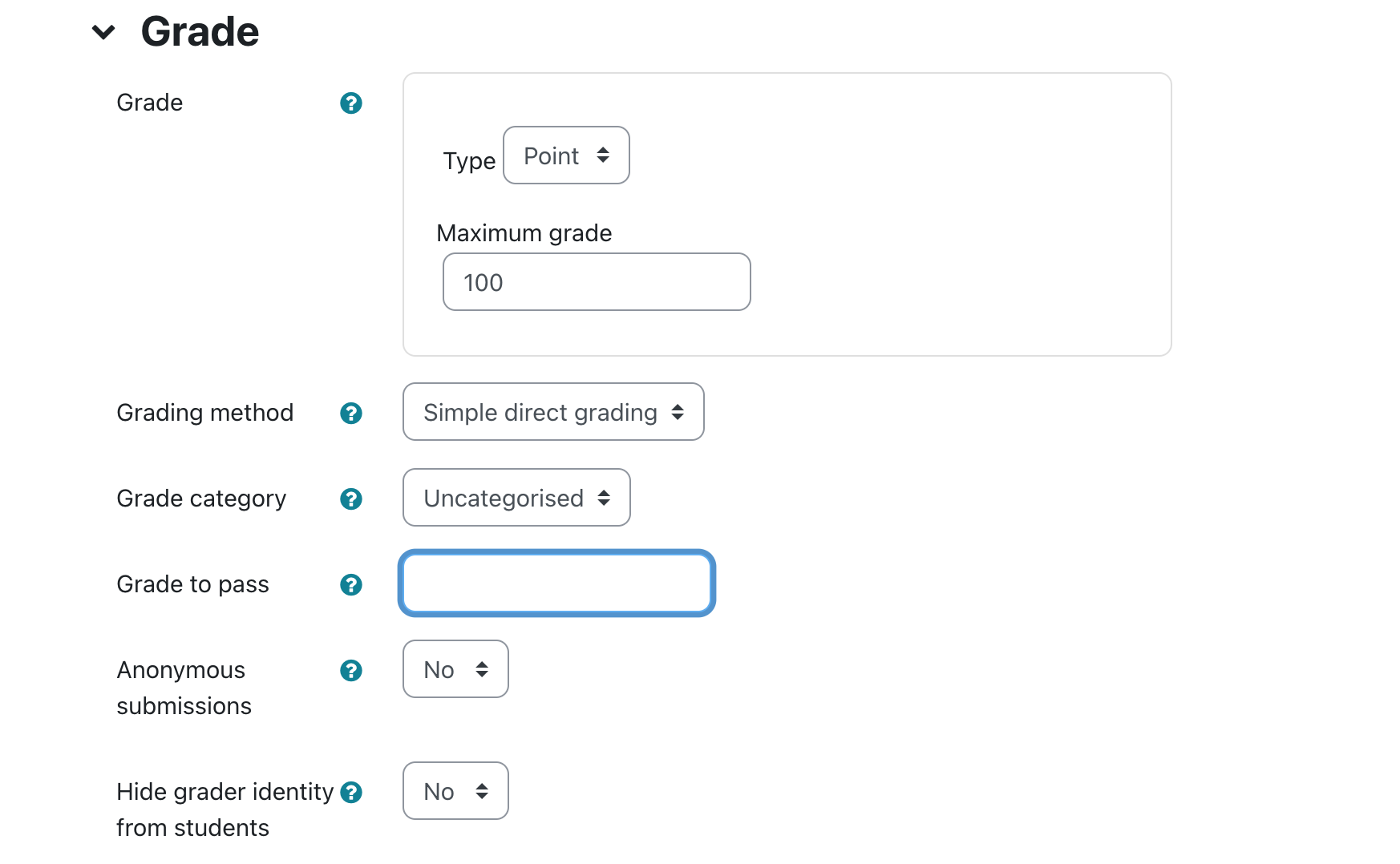 Report Builder
Formerly a feature of Moodle Workplace TM, the Report builder feature is now integrated with version 4.0 for all users. This functionality allows administrators to create and share custom reports.
Easily add and remove columns

Conditions, filters, better structure, and card view

Preview Button

Define the access type by report

Program reports
Read more about this feature in the Moodle documentation.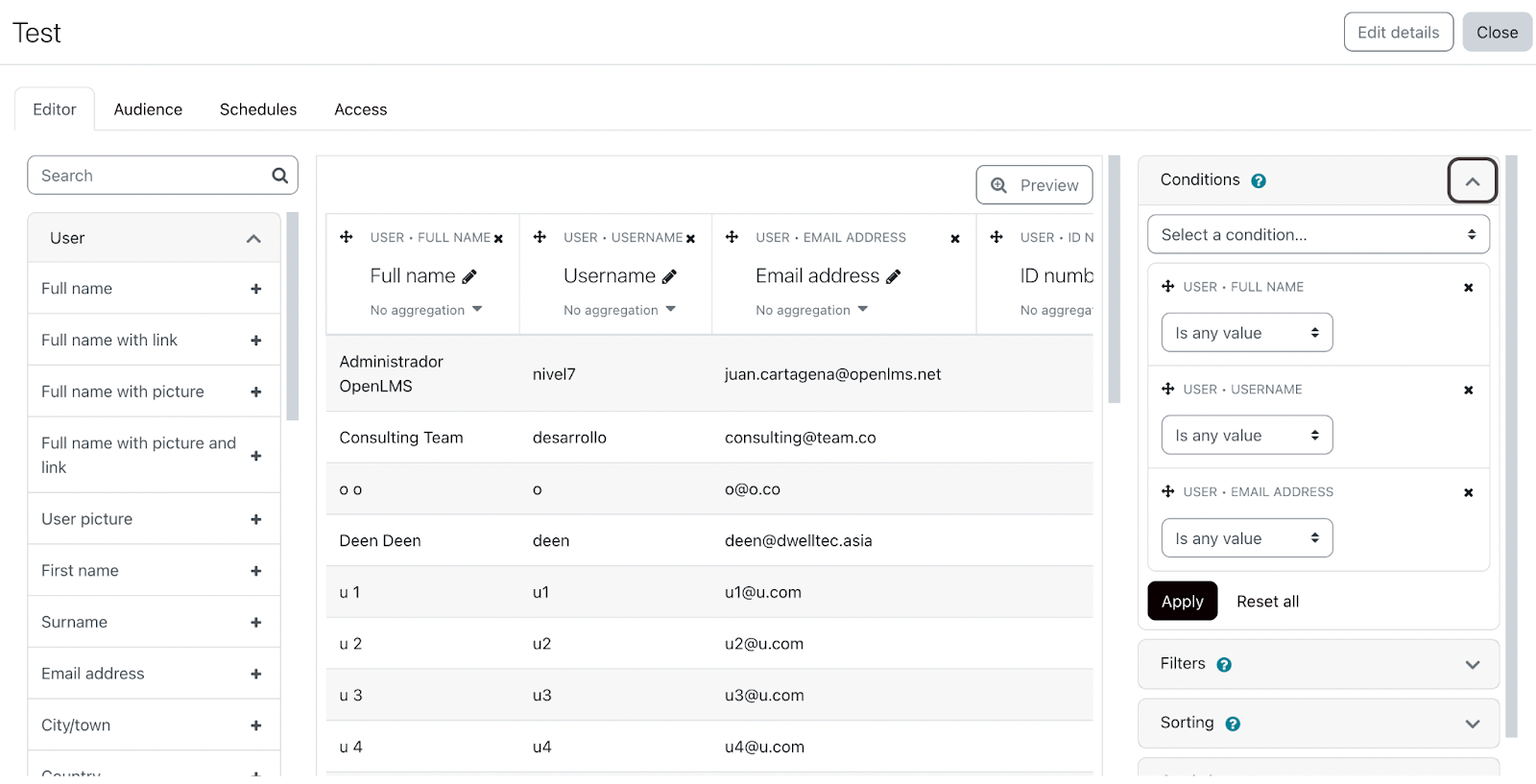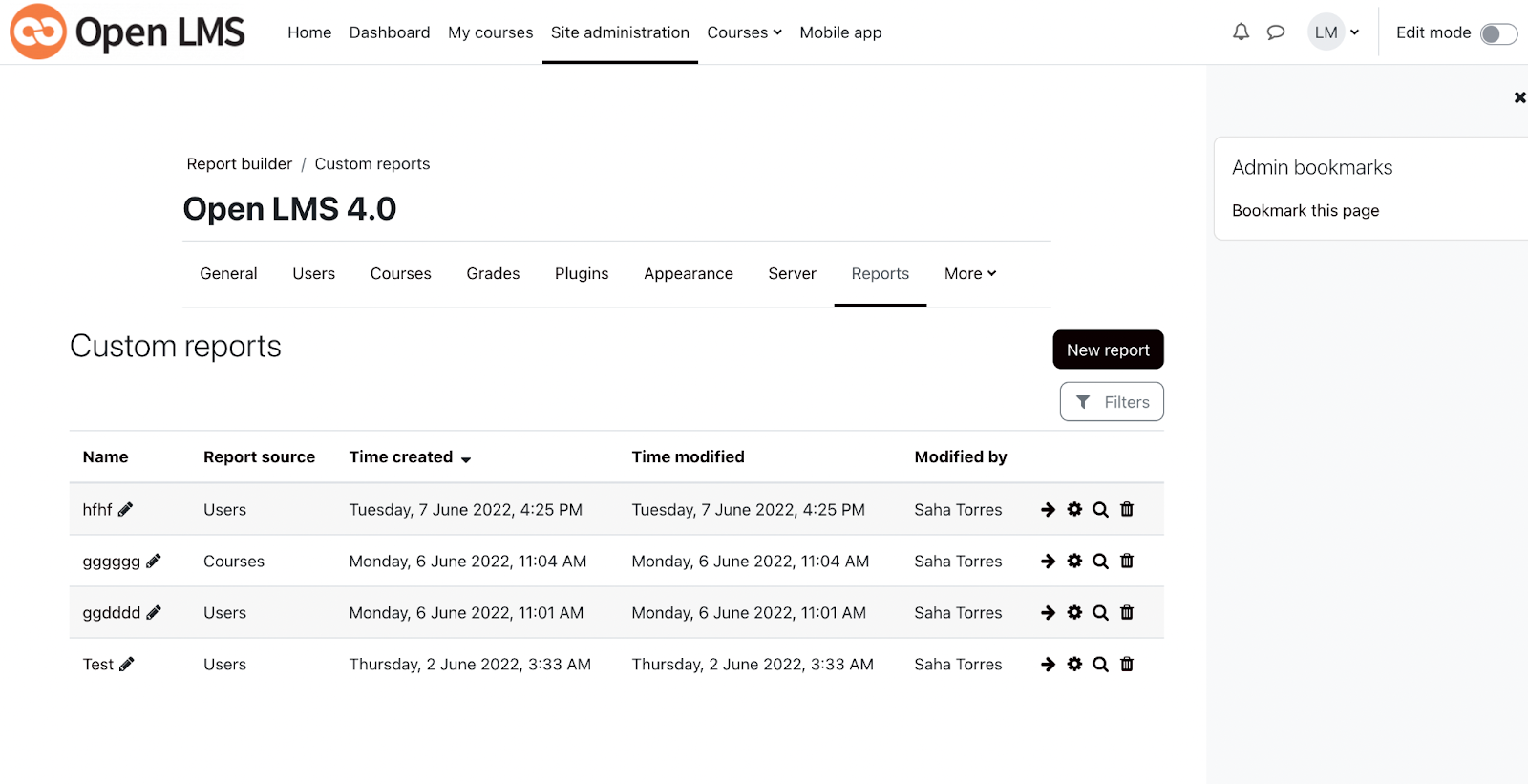 BigBlueButton integration
With this new release, Moodle is introducing a free trial of BigBlueButton for live web conferencing.
This free layer of functionality includes:
Teachers can create sessions of up to 60 minutes with up to 25 participants

Teachers can also share their screens, use whiteboards, and surveys, divide sessions into groups and record the session for up to 7 days.
Other course improvements
Better Drag-and-Drop

On/Off visible option

Improved "Add block" and " Add an activity or resource" buttons

Content updates notification for students
Other General Improvements
Improved User tours with images

Question bank plugins show or hide options

Question bank improved question management

Improved Accessibility for the Atto Editor

Support of LTI 1.3 Advantage

Admin configuration presets
Open LMS Highlights
General UX and UI improvements
For the 4.0 release, the Open LMS team focused on the review and adaptation of the new core 4.0 code for our platform and its themes. Within that process, we made several UI and UX improvements.
SNAP icons redesign for activities - Core and Open plugins
Boost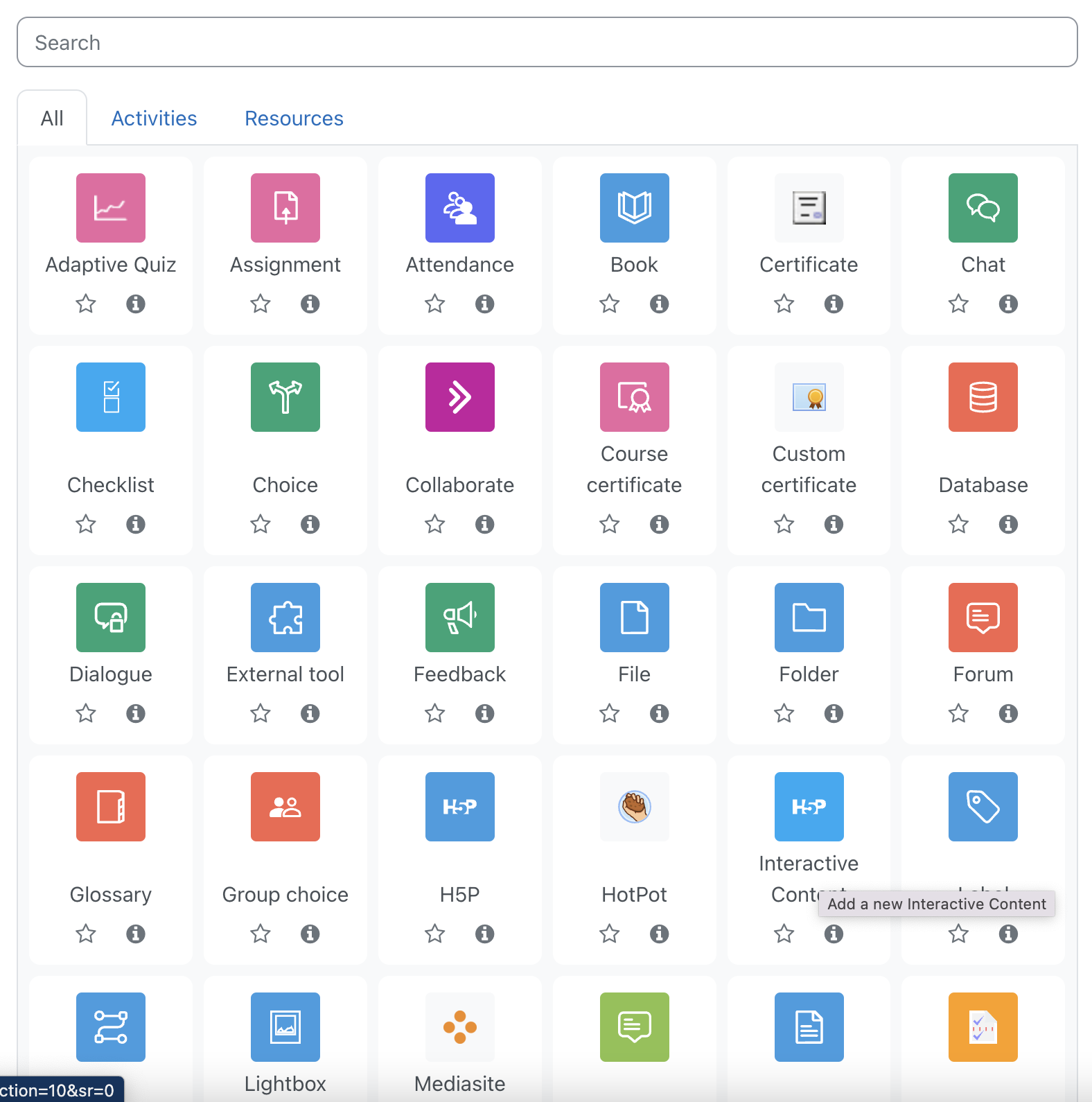 SNAP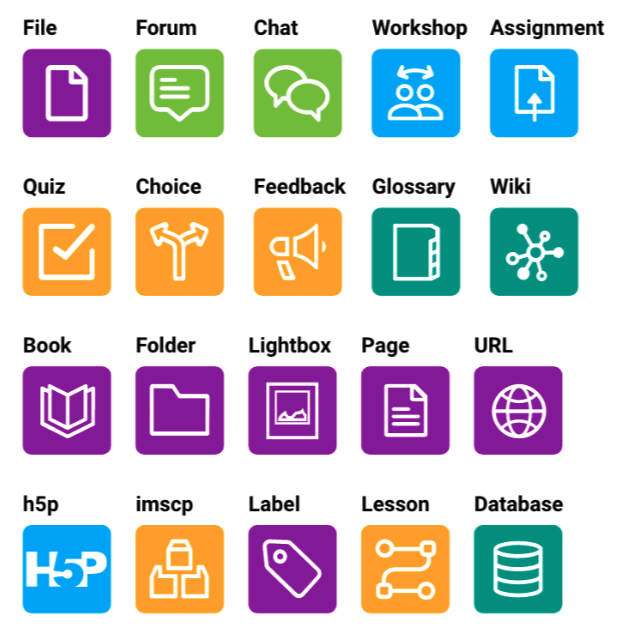 File Appearance info attributes for SNAP
For design reasons in the past, the Appearance section in SNAP's course settings was hidden by default. This section is now visible and with new options.

Login settings view
The login redesign for SNAP was further improved with more explicit descriptions and instructions so that the new features were more intuitive.

Updated plugins
New Core plugins
| | | |
| --- | --- | --- |
| Component Library | tool_componentlibrary | 2022041900 |
| Question Bank | qbank_bulkmove | 2022041900 |
| | qbank_columnsortorder | 2022041900 |
| | qbank_columnsortorder | 2022041900 |
| | qbank_comment | 2022041900 |
| | qbank_customfields | 2022041900 |
| | qbank_editquestion | 2022041900 |
| | qbank_exportquestions | 2022041900 |
| | qbank_exporttoxml | 2022041900 |
| | qbank_history | 2022041900 |
| | qbank_importquestions | 2022041900 |
| | qbank_managecategories | 2022041900 |
| | qbank_previewquestion | 2022041900 |
| | qbank_previewquestion | 2022041900 |
| | qbank_statistics | 2022041900 |
| | qbank_tagquestion | 2022041900 |
| | qbank_tagquestion | 2022041900 |
| | qbank_usage | 2022041900 |
| | qbank_viewcreator | 2022041900 |
| | qbank_viewquestionname | 2022041900 |
| | qbank_viewquestiontext | 2022041900 |
| | qbank_viewquestiontype | 2022041900 |
Updated plugins
| | | | |
| --- | --- | --- | --- |
| Workplace certificate | tool_certificate | 2022031610 | 2022082400 |
| | certificateelement_border | 2022031610 | 2022082400 |
| | certificateelement_code | 2022031610 | 2022082400 |
| | certificateelement_date | 2022031610 | 2022082400 |
| | certificateelement_digitalsignature | 2022031610 | 2022082400 |
| | certificateelement_image | 2022031610 | 2022082400 |
| | certificateelement_program | 2022031610 | 2022082400 |
| | certificateelement_text | 2022031610 | 2022082400 |
| | certificateelement_userfield | 2022031610 | 2022082400 |
| | certificateelement_userpicture | 2022031610 | 2022082400 |
| OpenID Connect | auth_oidc | 2021051720 | 2022041910 |
| SAML2 | auth_saml2 | 2022032200 | 2022083100 |
| Attendance | block_attendance | 2018052100 | 2022031800 |
| | mod_attendance | 2021082600 | 2022083107 |
| Checklist | block_checklist | 2021051500 | 2022012200 |
| | mod_checklist | 2021063000 | 2022012200 |
| | gradeexport_checklist | 2021041000 | 2022062800 |
| Microsoft | local_o365 | 2021051723 | 2022041910 |
| | block_microsoft | 2021051720 | 2022041900 |
| | local_office365 | 2021051723 | 2022041905 |
| | local_onenote | 2021051720 | 2022041900 |
| | assignfeedback_onenote | 2021051710 | 2022041900 |
| | assignsubmission_onenote | 2021051710 | 2022041900 |
| | repository_office365 | 2021051720 | 2022041900 |
| | theme_boost_o365teams | 2021051720 | 2022041900 |
| Sharing Cart | block_sharing_cart | 2021092900 | 2022092301 |
| Level Up! | block_xp | 2022041501 | 2022052300 |
| Grid Format | format_grid | 2021102701 | 2022072203 |
| Collapsed Topics | format_topcoll | 2021061204 | 2022041701 |
| Ally | filter_ally | 2022101200 | 2022101800 |
| | report_allylti | 2022101200 | 2022101800 |
| Course Size report | report_coursesize | 2021040100 | 2021040101 |
| Wiris | filter_wiris | 2021110900 | 2022070100 |
| | atto_wiris | 2021110900 | 2022070100 |
| | tinymce_tiny_mce_wiris | 2021110900 | 2022070100 |
| | local_wirisquizzes | 2021122100 | 2022090700 |
| | qtype_essaywiris | 2021122100 | 2022061500 |
| | qtype_matchwiris | 2021122100 | 2022061500 |
| | qtype_multianswerwiris | 2021122100 | 2022061500 |
| | qtype_multichoicewiris | 2021122100 | 2022061500 |
| | qtype_shortanswerwiris | 2021122100 | 2022061500 |
| | qtype_truefalsewiris | 2021122100 | 2022061500 |
| | qtype_wq | 2021122100 | 2022090700 |
| RecordRTC for Atto | atto_recordrtc | 2021051700 | 2022041900 |
| Adaptive Quiz | mod_adaptivequiz | 2022020400 | 2022050700 |
| Big Blue Button | mod_bigbluebuttonbn | 2019101011 | 2022041901 |
| Group choice | mod_choicegroup | 2021083100 | 2022090700 |
| Workplace course certificate | mod_coursecertificate | 2022031610 | 2022082400 |
| Journal | mod_journal | 2022041400 | 2022091600 |
| Lightbox Gallery | mod_lightboxgallery | 2021101400 | 2022062400 |
| Questionnaire | mod_questionnaire | 2021062300 | 2021062301 |
| Quizventure | mod_quizgame | 2021042700 | 2022030300 |
| Zoom | mod_zoom | 2022022400 | 2022092200 |
| Turnitin | plagiarism_turnitin | 2022032301 | 2022092101 |
| | plagiarism_turnitinsim | 2021060101 | 2022092101 |
| | plagiarism_turnitinsim | 2021060101 | 2022092101 |
| All-or-Nothing Multiple Choice | qtype_multichoiceset | 2021071200 | 2022081100 |

End of life of plugins
Core Moodle plugins removed by Moodle
| | |
| --- | --- |
| Jabber | jabber |
| Picasa | picasa |
| The Health center tool | tool_health |
| Boxnet plugins | boxnet |
| | repository_boxnet |
| Quiz results block | quiz_results |
| Word censorship filter | filter_censor |
| VideoJS Flash | media_videojs |
| WebCT question import format | webct |
| Examview question import format | examview |
Bug Fixes and Minor Enhancements
MR-3.11-MP5-HF1
Problem 252385 - block_reports: Results not updated even when query is updated using Chrome
MR-3.11-MP5-HF2
Problem 250659 - Photo Tiles progress indicators missing when alternative style is turned on

Error: Script error for "theme_snap/snapce" when deleting a Category with a course in Firefox
MR-3.11-MP5-HF3
Description in the login background, to improve login page usability.

Problem 252095 - in Snap using Tiles format when moving an activity, the edit button of the activity is affected.

Problem 255361 - Restore option has overlapping Drag & Drop icons

Problem 250093 - Tiles format: Hyperlinks in label resource not holding original position

OIDC/local_o365 - Backport users duplication fix

EDU VPAT Snap - Homepage logged out - 2
MR-3.11-MP5-HF4
Problem 255628 - Reports tab in course admin is opening Ally page

Problem 250707 - Tiles format showing content pop-up box duplicated in SAAS sites