What is Snap? Snap is the open-source custom-designed theme that we built and shared with the global MoodleTM community of educators.
Snap focuses on the user experience by reducing the number of clicks, bringing information to the surface, and modernizing the look and feel of native MoodleTM . It also has a number of accessibility features built-in, with parts of the theme designed to help improve the accessibility of the regular MoodleTM experience. With Snap's clear workflows, you and your students can focus on the learning that matters.
Key Elements:
Snap allows you to favorite a course by selecting the star icon in the course card. This functionality remains across themes, which means no matter where you mark a course as a favorite or which theme you use, the course consistently remains a favorite.
Snap is responsive. You and your students can get the most out of your courses from any device.
View tours of the Snap theme with the designer on YouTubeTM (available in English only)
How to apply the Snap theme in your site and course:
Administrators can choose Snap as the site wide theme in the Site administration block. If this is enabled, your course will automatically use the Snap theme; there's no need to force the theme in your course settings. Navigate to site administration>Appearance>themes>theme selector>choose snap
To force snap theme in select courses: Navigate to course administration > Edit Settings > Appearance > Force Theme > Snap
Format your Snap course Steps:
Course administration > Edit settings > Course Format > Format

The following formats work best in Snap:

Weekly Format: The course page is organized into weekly sections, with the first section beginning on the course start date.
Topics Format: The course page is organized into topic sections.

Add a course image Steps:

The Snap theme allows teachers with editing rights to add a course image to a course page. The course image appears in the user's personal menu and in course listings. Select Change image and upload a course header image.

Find your way around Snap

The structure of Snap promotes a focus on the learning content. It presents the content in a single column. Information flows from top to bottom. Each section or topic is a separate web page. This allows your students to focus on each topic without any distractions.
­­­­At the start of each course is a table of contents. The table of contents creates a clear overview of the course structure. This structure means your students can navigate to each section in the course with ease. Course tools are in one simple location. Select Course Dashboard in the table of contents to go to them. Blocks are also found in this area.
Select Course Dashboard in the table of contents to go to them. Blocks are also found in this area.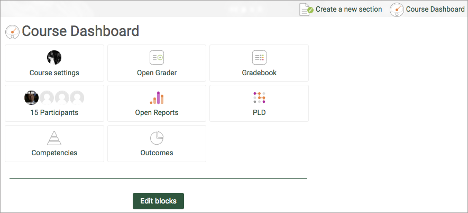 4. A recent activity stream is available in the course footer. It shows you and your students a snapshot of what happened recently in the course.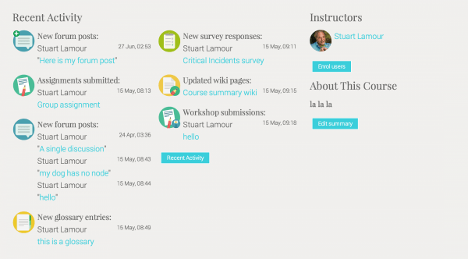 5. Snap hides the Administration block to reduce page clutter. Select Admin in the top right to expand the block.

6. Snap uses icons and cards to help students recognize resources and activities at-a-glance. The color for popular file types match the product color. For example an PowerPoint® presentation is orange. This makes the file types easier to scan. If completion activity is enabled, a green check mark shows users they have completed an activity.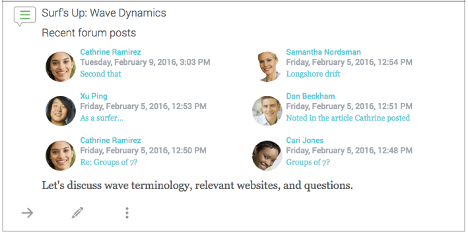 7. The Personal Menu now supports MoodleTM's course end dates. Courses where the end date is in the past appear in separate tabs from current courses, and are grouped by year. Separating current and past courses helps users focus on the content that is important to them.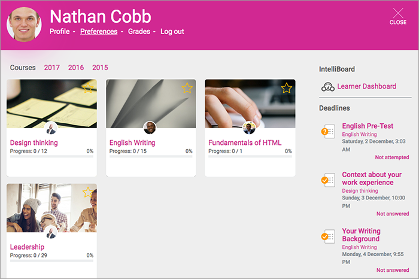 8. Customize your dashboard to add more blocks.
Filter which courses appear in your dashboard.
Star a course to make it a favorite or hide it from view.
Sort courses by Course name or Last accessed.
Sort courses into Card view, List view, or Summary view.
Simpler Activity Creation Snap's activity chooser now mimics the app selection screen found on mobile devices. It is quicker and more straightforward for MoodleTM instructors to add activities, without lots of scrolling, with a single click. Instructors can add resources and access help information in separate tabs within the chooser.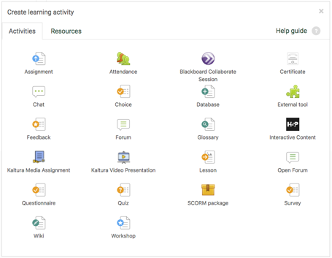 6. Separating the help information from adding content reduces the time it takes an instructor to create an activity. To change the order of activities and resources select Move. Navigate to the new location. Select Move here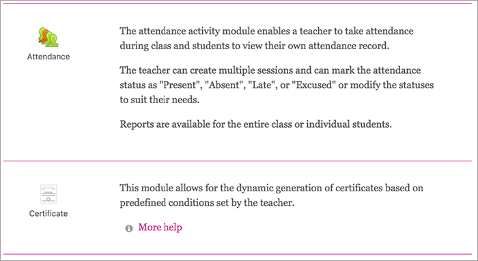 In Snap, editing is always on and right where you want it. Every label, activity and resource has three tools you can use to edit it.
Move: Use this to change the location of the activity, resource or label.
Edit: Use this to edit the settings or content of the activity, resource, or label.
More: Open this to delete, hide, and duplicate the item.
You can also assign roles and open the Personalized Learning Designer.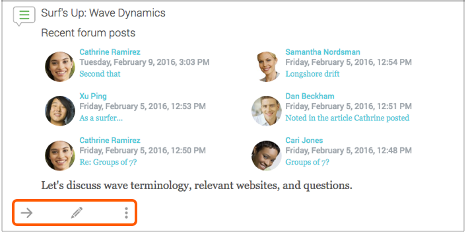 Upload files in Snap: Not only can you drag-n-drop, you can browse to upload single or many files. This makes it easier to add content on touchscreen devices. Go to the bottom of a section to add files to your course.

Grade in Snap: Use Open Grader to view and grade submitted assignments and forum posts.
Steps: Course Dashboard > Open Grader > Show Activities Requiring Grading
View the gradebook with a simple landing page of gradebook category and course totals. Steps: Course Dashboard > Gradebook
Message students in Snap: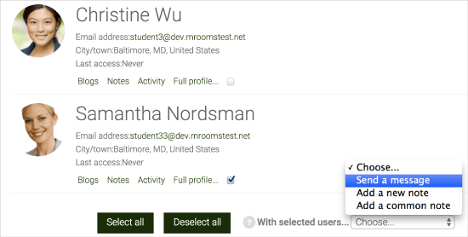 Visit the course participant list to message a student. Select Course Dashboard and select Participants. Check the participants you want to message. Select Send a message from the Choose menu. Compose your message and send.
Give feedback on submissions:
Steps: Personal Menu > Deadlines Find submissions that are ready for your feedback under Deadlines in your personal menu. Open your personal menu. Find submissions under Deadlines. Open the submission and give your feedback.