Catalyst, the organization responsible for maintaining the e-portfolio Mahara application, has announced its intention to transition to a subscription model for its latest PHP 8.1-supported version, including all corresponding Moodle Plugins.
Here's what you need to know:
To access the new PHP 8.1-supported version of Mahara, a subscription payment will be required. This transition will impact all our customers using Mahara in EDU, MH, and Enterprise, with EDU clients being the first in line for the upgrade.
We will reach out to inform you of these changes and provide you with the option to subscribe to the new version.

For our valued EDU clients, we have a special consideration: To maintain ISO certification and adhere to stringent security standards, it is necessary to upgrade all sandbox and production sites to PHP 8.1.
By the end of 2023, we will need to upgrade all sites to PHP 8.1. This presents our clients with three possible scenarios:
1. Subscribe to Catalyst's new model and enjoy the latest version of Mahara with its enhanced features and functionalities. Your Account Manager will guide you through the subscription process.
2. Choose to transition to a different e-portfolio tool. Your Account Manager will be in touch with you to provide further information on recommended options within Open LMS.
3. Opt to discontinue the use of Mahara, including both the Mahara application and its associated plugins. The discontinuation and removal of this functionality will be part of the respective upgrades to version 4.1 MP3.
Upgrade process
For clients using the Mahara e-portfolio tool, the upgrade process will be as follows:
1. Sandbox Database Upgrade:
We will perform the upgrade of Mahara databases in your sandbox site(s). This process will require a brief downtime of Mahara functionality, approximately 45 minutes. Please note that your Moodle site will not experience any downtime. The upgrade will occur on one of the following dates:
November 14, 2023
November 15, 2023
November 16, 2023
2. Production Database Upgrade:
Similar to the sandbox upgrade, we will upgrade the Mahara databases in your production site(s). This will also necessitate a brief downtime of Mahara functionality, lasting around 45 minutes, with no impact on your Moodle site. The upgrade will take place on one of the following dates:
December 5, 2023
December 6, 2023
December 7, 2023
Our team is working to schedule the database upgrades during non-business hours within the specified timeframes.


3. Sandbox upgrade to 4.1 MP3
As per the schedule, all sandbox sites will be upgraded to Open LMS 4.1 MP3 on November 30, 2023. Mahara plugins will also be upgraded to the latest version compatible with PHP 8.1.

4. Production upgrade to 4.1 MP3
According to the regular schedule, all production sites will undergo the upgrade to Open LMS 4.1 MP3 on December 28, 2023. Mahara plugins will be updated to the newest version supporting PHP 8.1.

We are actively collaborating with Catalyst to ensure a seamless transition and provide our Open LMS clients with access to the PHP-8.1 supporting version. Your satisfaction and the smooth continuity of your services remain our top priorities.


About the new Mahara subscription model

Mahara subscriptions are annual subscriptions.
Costs are stated in US Dollars as of 20 October 2023, exclusive of any applicable Taxes.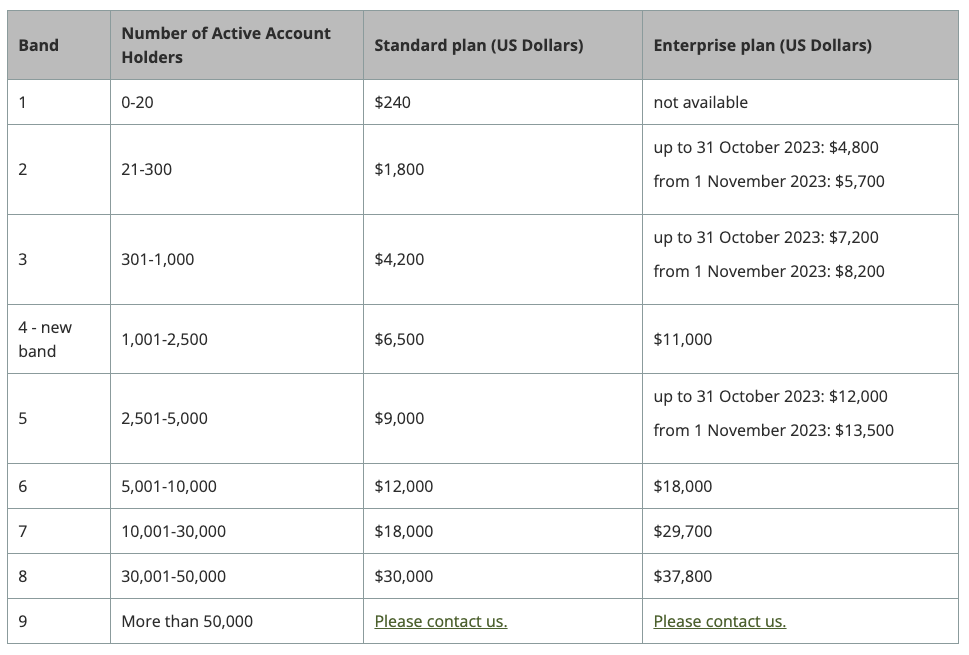 Our Open LMS account managers are ready to help you with the transition to a paid subscription with Catalyst, please don't hesitate to reach out to us at account-manager@openlms.net.
Read more in Mahara for organizations