Release Schedule

Open LMS EDU 4.1 Maintenance Pack 2
Sandbox Upgrade: Thursday, October 5, 2023, 9:00 AM - 5:00 PM EDT
Production Upgrade: Thursday, October 19, 2023, 12:30 AM - 4:30 AM local data center time
Release Date
October 19, 2023
North America, Central America, South America (Virginia, USA datacenter): Clients will be upgraded according to their timezone:

Eastern, Amazon, and Newfoundland-Labrador Timezones: October 19, 2023, at 12:30 AM - 4:30 AM EDT
Central Timezone: October 19, 2023, at 12:30 AM - 4:30 AM CDT
Mountain and Pacific Timezones: October 19, 2023, at 12:30 AM - 4:30 AM PDT

South America (Sao Paulo, Brazil datacenter): October 19, 2023, at 12:30 AM - 4:30 AM BRT
EMEA (Frankfurt datacenter): October 19, 2023, at 12:30 AM - 4:30 AM CEST
APAC excluding Australia and New Zealand (Singapore datacenter): October 19, 2023, at 12:30 AM - 4:30 AM SGT
Australia and New Zealand (Sydney, AU datacenter): October 19, 2023, at 12:30 AM - 4:30 AM AEST
Non-Production Sites Upgrade Schedule
To improve the quality of the upgrade process and shorten the production upgrade window, non-production (sandbox) sites will be upgraded on Thursday, October 5, 2023, between 9:00 AM - 5:00 PM EDT.
Downtime will be required for your production and non-production sites during this window.
Release video
Release Highlights 4.1 MP2
Major Features
Upgrade to  Core 4.1.5
As part of this minor release, the team in Open LMS upgraded the platforms and reviewed the code of versions 4.1.4 and 4.1.5, adding the corresponding fixes, improvements, security patches, and important backports.
Release Notes
For the full releases notes from Moodle.org, please see:
Open LMS Highlights
Snap My Courses new design
The My Courses page has a new design in Snap's theme with several modifications to enhance the page layout and navigation experience.
New header user menu and new link
The Snap header was restructured and now you can see a separation of the "My Courses" link from the user profile picture, and the user profile picture now shows user menu items.
The "My Account" link will only be displayed for admins. The Catalog link and the programs' links are already in the personal menu.
Kebab menu on My courses page
The My Courses view for Snap now has a kebab menu in the top right corner of the block with the following options as in the Boost theme:
New course
Manage courses
Request course (if enabled)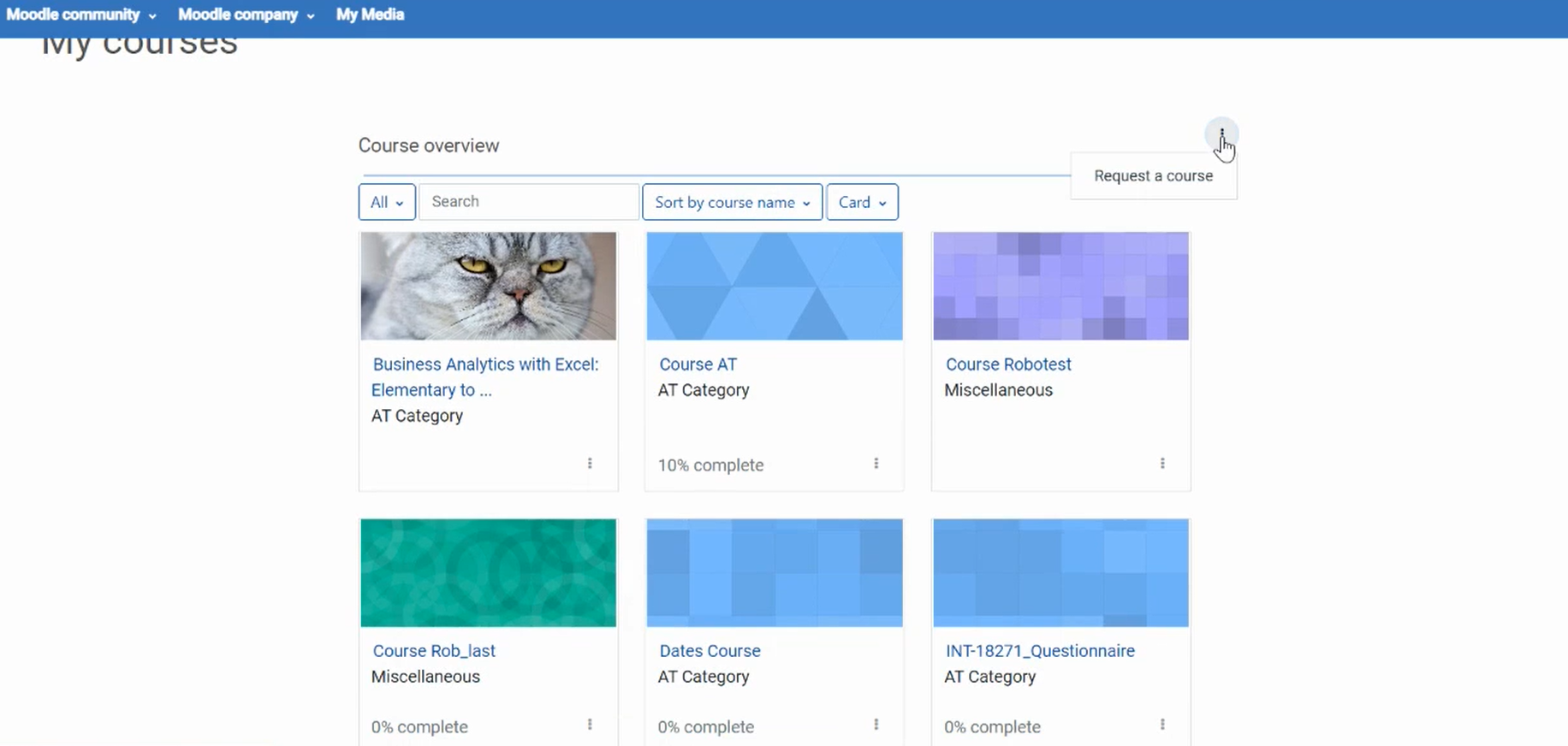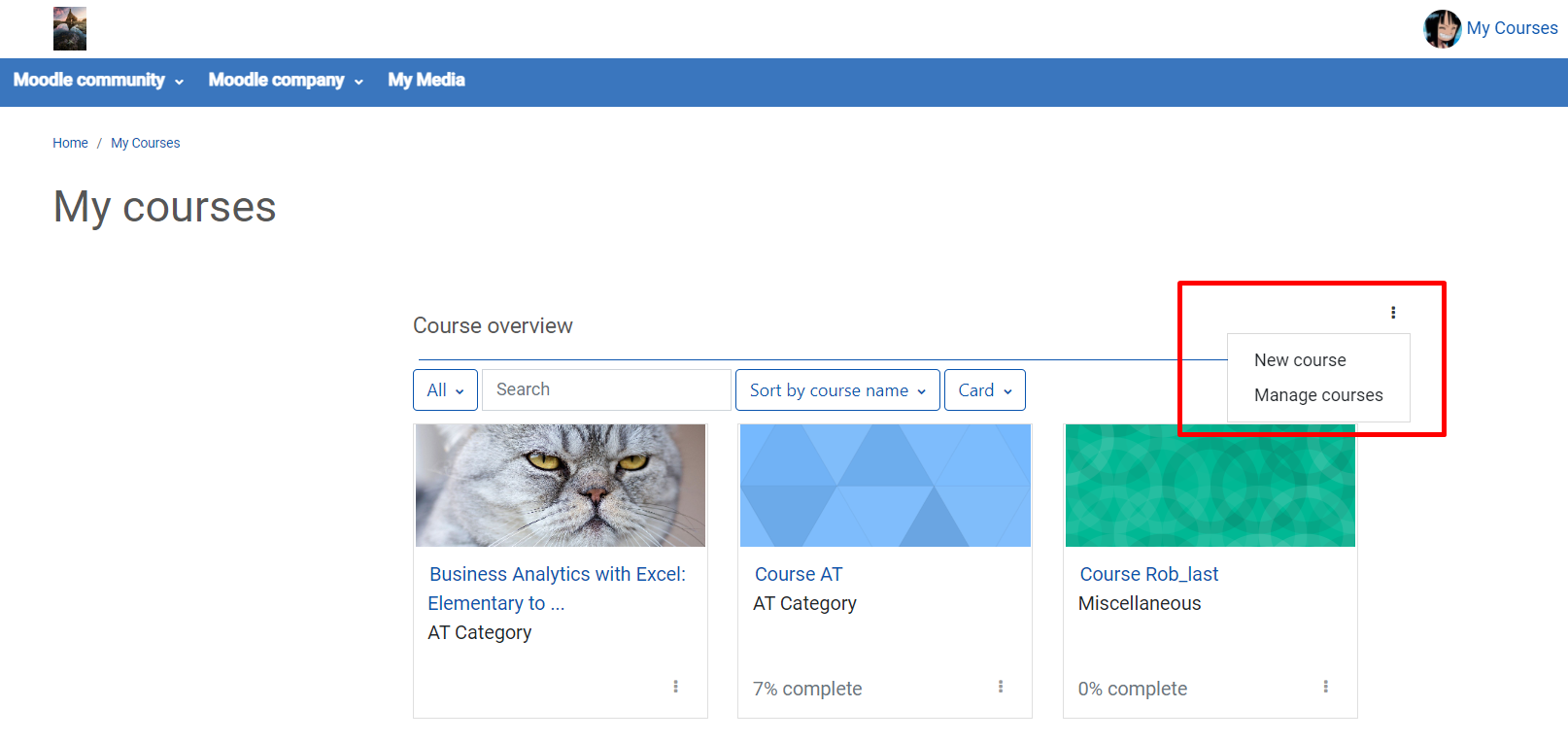 Consistency between themes
Now that the "My Courses" page exists within the Snap theme, the previous navigation and redirection modifications introduced in the past were removed from the mentioned page.
Enable dashboard setting was unblocked, so you can choose whether to enable it or not.

The start page for user settings has an extra option, now you are able to select "My courses".
If selected, you will be redirected to the "My courses" view after login or if trying to go to the front page from any other page.

Checklist as grading method for core forums
The Checklist grading method is now available for core forums, this is an easy way for the user and teacher to define and view a list of criteria with the associated grade value for each one.
Once you create a forum activity you can set up checklist as the grading method.

 

Choose "Advanced grading" in the created forum settings and select "Define new grading form from scratch", then create a checklist.

The checklist now is shown in the right panel with the checklist fields, and the feedback per item to grade all the enrolled users.
Plugins
New Core plugins
| | | |
| --- | --- | --- |
| TinyMCE link | tiny_link | 2022112800 |
Updated plugins
Redis Cluster

cachestore_rediscluster

2017121200

2021040600

ILP Integration

block_intelligent_learning

2022110290

2023060701

Intelliboard

local_intelliboard

2023062704

2023092500

Intellidata

local_intellidata

2023042000

2023082200

IntelliCart

local_intellicart

2023070500

2023092002

Forced Caching

tool_forcedcache

2020120300

2020120301

WiseNET

local_wisenetconnector

enrol_wisenetconnector

auth_wisenetconnector

2016012800

2016051900

2016022500

2022100600

2019070400

2016071400

Products Catalog

block_products_catalog

2023062000

2023082100

Grid Format

format_grid

2022112604

2022112605

Vendor

profilefield_vendor

2023013000

2023071900
Removed plugins
| | |
| --- | --- |
| Ouwiki | mod_ouwiki |
Plugins to be removed in 4.1 MP3 plugins
Here is a list of plugins that we are planning to deactivate soon:
| | |
| --- | --- |
| auth eFolio | auth_efolio |
| block eFolio | block_efolio |
| GW email authentication | auth_gw_email |
| Elasticsearch | search_elasticsearch |
| Mediasite 7 Courses | local_mediasite_courses |
| Mediasite Content | mod_mediasite |
| Mediasite Atto Editor | atto_mediasitebutton |
| gsaml | auth_gsaml |
Security fixes
Bug Fixes and Minor Enhancements
MR-4.1-MP1-HF1

Editing Mode Option Unavailable for Lightbox Gallery when Using Snap Theme

Backport: MDL-78055 Deprecated: function_exists(): Passing null to parameter of type string when building CSS (PHP 8.1)

Backports - my/ and my/courses.php slowness

MR-4.1-MP1-HF2

Backport - Course Reset: course_modules_viewed entries not deleted

Quiz question drag and drop text fails after clicking (not dragging) 2 answers (Backport MDL-77865)

URL icon when adding a PDF link appears as a gray square in Snap 4.0

theme_snap: editor_atto: Activity settings are displayed even using FullScreen mode

.ico missing as file type option for EDU clients to upload a Favicon

MR-4.1-MP1-HF3

Backport 4.1.5 security fixes and security improvements to 4.1

Fix the GIF play/pause button display in certain situations

MR-4.1-MP1-HF5

theme_snap: Unable to add, edit, and delete block in Course Dashboard

MR-4.1-MP1-HF6

Semicolon or closing curly brace in filename causes errors editing or deleting content

Remove or restrict "Run Conduit Now" button

Backport intellicartpayments fix and fix filter__cache_mediaplugin tests

MR-4.1-MP1-HF7

PLD Legacy, History - The information is not being sorted with the button on the title of the fields

Backport MDL-75898 - Assignment readonly pages can be requested when they do not exist

MR-4.1-MP1-HF8

Request to Backport MDL-76903

MR-4.1-MP2

Fix Intellidata upgrade step

Intelliboard: Remove cache and uninstall files

Deprecate error Intelliboard legacy 4.1 MP2

Fix the bad call to `upgrade_mod_savepoint` on mod_goone

Snap My courses new design - New header user menu and new link

Review of the functionality of the PLD event "Recurring event"

Adjust the appearance of the course catalog page for snap

Custom Report Range Condition expands past page limit in Snap

Research: Evaluate the regressions of MDL-75576 Question bank statistics are fetched in a terribly inefficient way

Review format_grid 402.2.0

Upgrade tool_forcedcache

Revert Intellidata 1.107.0 (4.1 MP1) hotfix for 4.1 MP2

Plugin upgrade: Face to face 4.1 MP2

Snap - Activity headers not holding when scrolling down in grader report

Spanish International language pack contains unwanted content

SNAP gradebook edit button takes users back to search screen

Bulk update Wisenet plugins

Code review: Intelliboard legacy 4.1 MP2

Code review: Intellicart 4.1 MP2

Snap's Personal Menu & My Courses - Kebab menu in My courses page

Create Release checklist Open LMS 4.1 MP2

Snap's Personal Menu & My Courses - Patches removal, Create consistency between themes

Duplicated Collaborate activity doesn't take default settings.

SNAP - Course Enrolled Card on "my courses" displays overimposed elements.

Add Active user definition to our User report site

Upgrade block_intelligent_learning

mod_livepoll: Plugin cant be duplicated, restored

CR - Update OpenLMS Enterprise's cachestore_rediscluster to version 2021040600 (or higher)

theme_snap: TinyMCE Menu options not rendering correctly

Vendor QA update - Aria label in needed element marked as a button

Code review: Intelliboard next 4.1 MP2 (1.128.0)

Recurring Event PLD warning message is no longer accurate and should be updated

Open LMS dropdown in Boost does not show the Course catalog link

Fixes from Open LMS work: local_pld, block_collect, local_mr and local_liquidus

Liquidus - Undeclared dependency on local/mrooms

Line breaks are added unexpectedly to PLD emails received

Token of grade_percent_raw in PLD contain extra decimals

Snap in 4.0 the mod_h5p logo and mod_hvp logo are both blue

Kow - Repair Behat and enable Moodle plan 8.1

Research: Reduced data fetched by message_search_users

PLD cookie does not have samesite flag

PLD - Add capability to show legacy or new PLD to implement feature adoption telemetry layer

Token of points earned in PLD contain extra decimals

EOL: Remove Ouwiki plugin from our codebase

Snap theme "drag-and-drop on an image" questions lose the image in preview

Teachers with suspended enrolments still see assignment grading reminders and deadlines in Snap feed

Modify KOW lang command to avoid deletions for missing strings

Liquidus - Tracking forms block form submissions and other functionalities

Tiles format: Console error dndupload "Cannot read properties of undefined (reading 'get')"

Console Error: Uncaught TypeError: $(...).carousel is not a function

Liquidus - Add capability to launch Appcues flows based on role

Unskip tests failing by chrome issue

Checklist grading: Forum support part 3